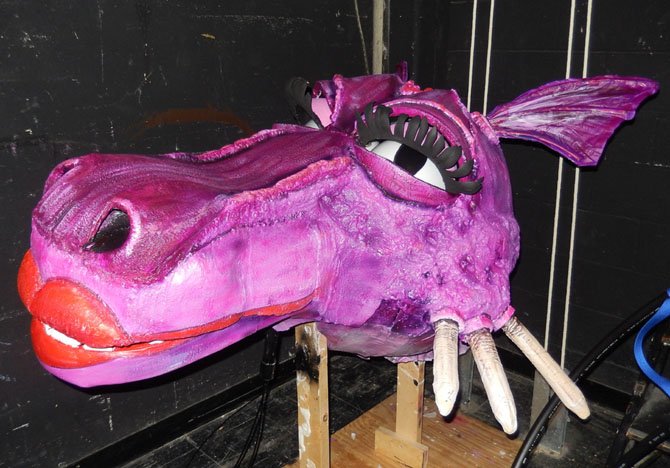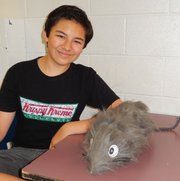 When audiences enjoy The Alliance Theatre's Summer Stars show, "Shrek the Musical," it won't just be because of the acting and storyline, but also because of all the work that goes on behind the scenes.
For example, said producer Maggie Swan, "Each piece of the set was made by a different person. And it all had to be easily movable so Chantilly High's band can practice here during the weekdays, between our weekend performances."
"Whenever we do a play, there are always lots of unsung heroes," she said. "They include the people who spend countless hours creating and sewing the costumes, and a hairstylist who styled some 20 unusual wigs."
Swan said 21 of the characters wear prosthetics to make them into more believable ogres and fairytale characters, and they were all created by a professional in that field. In addition, she said, "It takes a whole team to put the makeup on the actors before every show."
As for the set builders who've constructed a fanciful world of trees, a swamp, a castle and even a dragon's lair, they're dads, actors and students.
And, said Swan, "They've created pieces that have to not only be visually appealing, but sturdy, safe and functional, as well."
Annie Ermlick and Josh Nixon developed the choreography for all the musical numbers and then taught it to all those who'll be performing it. Kurt Gustafson designed the show's sound and lighting, and Ermlick's son Billy helped him with the latter.
Another invaluable member of the tech crew is Chantilly High sophomore Michael Rosegrant, who created many of "Shrek the Musical's" props. Among his proudest accomplishments are a plush, gingerbread-man puppet with an expressive face and movable eyebrows, and a gray, shaggy-haired, remote-control mouse. "I took a remote-control car and sculpted the mouse around it," he said. "It was really fun."
Looking forward to seeing everything come together onstage when the curtain rises, Swan says it's going to be a terrific show that's not to be missed. It's taken a great deal of time and effort but, she said, it'll all be worthwhile.
"It really does take 'a village' to put on a show like this," said Swan. "There are so many elements that go into creating the final product, but it's really going to be wonderful. We hope everyone will come see it."