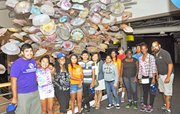 Ten students from the Fairfax branch (Murraygate chapter) of the Boys & Girls Clubs of Greater Washington got a sneak peak of Shark Week by spending the night among them at the Baltimore Aquarium at the seaport in Baltimore. They spent a "night at the museum" as part of the science, technology, engineering, and math (STEM) program sponsored by COX Communications last Friday, July 25. They explored the National Aquarium without the crowds and toured several behind-the-scenes labs and STEM classrooms, watched a fun 4D movie, and participated in question and answer sessions with the aquarium guides. Perhaps the biggest highlight was viewing the sharks in the viewing tank from above.
COX Virginia funded the trip as part of its partnership with the Discovery Channel, a program that provides a preview episode of Shark Week to local children each year. The curriculum was designed to combat the academic setbacks that many students suffer when not involved with education programs over the summer. According to the National Summer Learning Association, children who are exposed to quality educational and development programs and opportunities over the summer are better prepared to return to school in the fall.
The Boys & Girls Club of Greater Washington provides a safe haven for youth after school and when the schools are not open. The club provides opportunities and fun activities for the students as well as mentorship programs.