"It has been very successful from our perspective," said Jaclyn Young. "This has been the first opportunity to do a summer camp with our transition to a professional theatre." Young was referring to the summer theater classes she organized and directed at NextStop Theatre located in Herndon. The summer program consisted of five theatre related classes which end in August.
"I could not be more proud of our inaugural Summer Theatre Adventurers program," said Evan Hoffman, the Producing Artistic Director of NextStop Theatre. "Jaclyn Young and all of the teaching artists have built something from the ground up and brought an exciting new opportunity to Herndon. We have introduced kids to improv, theatre design and the kids are preparing to mount a production of Beauty and the Beast. It is just great stuff!"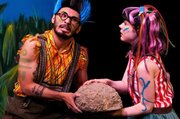 "The camps have ranged from improv, mystery theme, and we were very proud to introduce classes on makeup design and set design," said Young. Young teaches theatre at Walt Whitman Middle School in Alexandria. Previously she worked with the theatric organizations including Shakespeare Theatre and the Roundhouse Theater for five years. "We have gotten a lot of positive feedback from parents thrilled there is something like a summer theatre camp in their neighborhood," said Young. "Our biggest hope is that we can continue to grow and continue to offer more classes and outreach opportunities."
"It has been awesome," said Ivy Duerr, a rising sophomore at the College of William & Mary. Duerr has been a teaching assistant at the summer school program. "When I heard about this opportunity I took it," said Sara Prince, who was this year's music director for the summer program. NextStop Theatre Company has had an active summer season with a family show "Good Good Trouble on Bad Bad Island" directed by Danny Tippett playing from July 19 to Aug. 10.
OPENING ON AUG. 28 at NextStop's Industrial Strength Theatre will be "Gidion's Knot" by Johnna Adams. This play is a co-Production between NextStop Theatre Company and Forum Theatre. Intended for mature audiences, "Gidion's Knot" is a suspenseful drama about how a parent and teacher attempt to deal with a troubled schoolboy. As the story is uncovered, both figures try to reconstruct an explanation for his actions. "It has very serious subject matter, yet it is a fantastic play," said Hoffman. "It will be the first show of our second season as NextStop Theatre."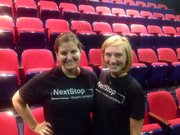 Two weeks remain for the popular summer cabaret series which began at NextStop Theatre in July. "We have had Broadway stars alongside the best local talent that this area has to offer," said Hoffman. "We are proud to have brought a new musical performance opportunity to Herndon." Friday, Aug. 8 features a performance by Dr. Darden Purcell, a Northern Virginia based jazz vocalist. Purcell has performed with big bands and jazz ensembles all over the world and serves as the Director of Jazz Studies at George Mason University. On Saturday, Aug. 9 Herndon native and current Fairfax County High School Choral Director Keri Staley will give a solo cabaret premiere at NextStop, and Sunday, Aug. 10, at 6:30 p.m. will feature "The Elden Street Musical Experience."
"It will be a fun evening of nostalgia," said Hofffman. "This concert is a wonderful way to celebrate the end of our inaugural professional season, built upon the success of our beloved community theatre foundation." The Elden Street Musical Experience show is under the music direction of Elisa Altman Rosman. After graduating college and working at several professional theatre companies in the D.C. area, Hoffman joined the Elden Street Players Board of Directors and was later hired to turn the all-volunteer amateur theater group Elden Street Players into the professional theatre company NextStop Theatre.
THE CABARET ends with performances by Grammy nominated singer/songwriter Jim Van Slyke on Aug. 16 and 17. For more information on NextStop, visit www.nextstoptheatre.org.