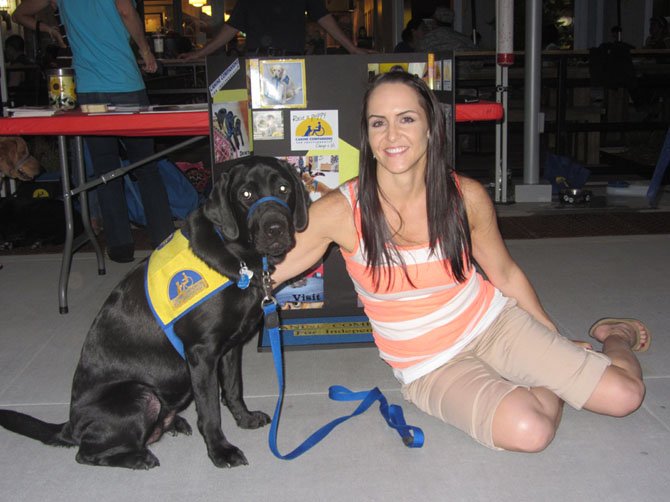 As summer winds down and comes to a close, one organization's local chapter is turning the tail end of summer into a tail-wagging event. McLean resident Laura Clark is heading an effort to bring Canine Companions for Independence's DogFest Walk 'N Roll event into Virginia.
"Canine Companions is the largest nonprofit in the nation that breeds, trains and matches service dogs for people with disabilities," said Clark, chairperson of the D.C. area Walk 'N Roll.
Clark is a volunteer puppy raiser for CCI, which means she raises a puppy for a year and a half, focusing on socialization, behavior in public places, and upwards of 35 commands. But Clark felt she could do more to help.
"When I became a puppy raiser and started learning more about the organization, I saw that other cities were having this DogFest walk," Clark explained, her puppy-in-training Kiva curled by her feet. "There weren't very many cities having it, and the closest city was pretty far away. We found out they were looking for new cities to host an event, so I volunteered to be chairperson."
Clark says she tries to donate 5-10 hours a week to the planning and coordination of the event, but that some weeks are more hectic than others as the walk draws nearer.
The event will be held on the morning of Sept. 13 at Pentagon Row in Arlington, an outdoor shopping area only a few miles from D.C. "There's this really beautiful courtyard area with shops surrounding the central part where we'll have a festival," Clark explained. "We have people who have pre-registered and have organized teams so we'll have some of our puppies there, we'll have some of our matched teams or service dogs, we'll have released dogs, we'll have family dogs; just a whole variety of people who'll be there."
The event will kick off with a presentation, followed by a mile-long ceremonial walk that everyone is encouraged to participate in. "It's a people walk as much as it is a dog walk," said Clark.
The festival will include numerous booths and vendors from area businesses including Starbucks, Smoothie King and USAA. PetSmart is a major sponsor, and will have booths with fun activities for the dogs as well.
Clark said the fundraising goal is $60,000, which is what it costs to breed, raise, train and match one service dog with a disabled person. Currently, the group has raised over $20,000.
"These last couple of months will be a big push for groups to continue fundraising and find any final business sponsors that would like to support us," Clark said.
More information on the walk is available at www.cci.org/dogfest.