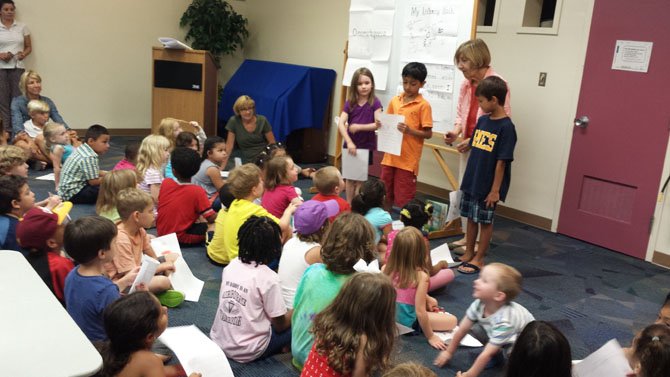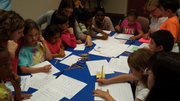 "W is for Writing Nights" will be the title of a student-authored alphabet book created by Hollin Meadows rising Kindergarten through Grade 3 students during eight weekly Monday night writing lessons at Sherwood Regional Library, June 30-Aug. 18.
"We've always known 'writing anchors reading,' and we just couldn't let the entire summer go by without doing something to support students' writing levels," said Kathy Boykin, Grade 1 lead teacher at Hollin Meadows Science and Math Focus School. Therefore, the Grade 1 teaching team (Ann Avila, Cathy Bowman, Marty Brosky, Heather Graham, Melissa Hentges, Leigh Ann Jackson, Todd Paxton and Boykin) spearheaded the idea of conducting a summer writing program aimed at the very youngest students with an organization plan and resources provided by Sally Chadbourn, reading teacher, and Robin Rossi, ESOL teacher. To help students maintain their reading development and establish at-home libraries, Hollin Meadows also sends multiple mailings of books matched to students' reading levels during July and August. Children entering Kindergarten in the fall, as well as those rising to Grades 1-3, receive books as part of the school's 10th annual summer book mailing program coordinated by Rosey Carmichael, a member of the Kindergarten team.
Fifteen Hollin Meadows Science and Math Focus School teachers, PreK-Grade 3, special education, ESOL, and reading, now volunteer from 6:30-7:30 p.m. each Monday evening this summer to provide carefully planned lessons appealing to a wide level of ages and abilities. "We thought we had a 'hit' on our hands and were meeting children's needs when we saw our attendance swell from 24 students accompanied by 22 parents the first night to 48 students plus 48 parents on our most recent Monday night in July," said Avila, Writing Nights' coordinator, who keeps an attendance tally.
Writing Nights were inspired by a 2013-14 Hollin Meadows teachers-as-researchers project led by Boykin and Chadbourn. With colleagues in Kindergarten and Grades 1-2, they implemented a pacing calendar featuring "writing on demand" when students wrote independently during writing workshop and these writing samples were then compared to students' reading levels. In Boykin and Chadbourn's study of their K-2 pupils, data verified best practices research: writing development correlates with reading progress. Hollin Meadows' results replicated previous educational studies showing students from elementary through secondary school require similar amounts of writing and reading instructional minutes in order to maintain growth in reading.
"Yes, the goal for both Writing Nights and the summer book mailing program has been to make sure children's writing and reading don't suffer what's known as 'slippage' or 'summer slump,'" said Avila. "But we've also achieved another goal: developing a sense of community centered around the public library. It provides a wonderful atmosphere for families to come together on Writing Nights, talk and get to know each other, and learn."
Hollin Meadows staff members and Principal Jon Gates, who is also a Writing Nights volunteer teacher, expressed gratitude to Sherwood Regional Library's staff for their hospitality. Monday night has become Writing Night and Sherwood Library Night for many Hollin Meadows' parents who accompany their young children. Such student and family enthusiasm means Hollin Meadows teachers are already considering plans for summer 2015 Writing Nights and may even increase lesson time due to popular demand.