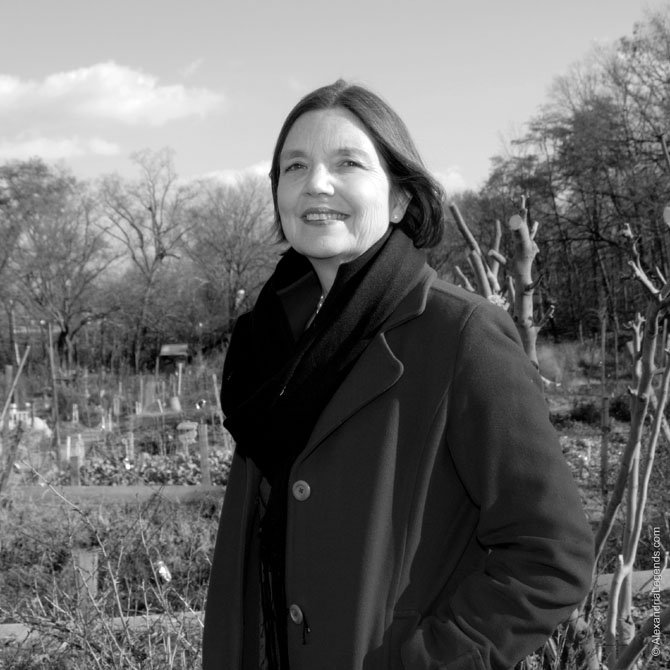 Living Legends: The 2014 Project
Living Legends of Alexandria is an ongoing 501(c)(3) photo-documentary project to identify, honor and chronicle the people making current history in Alexandria. The project was conceived in 2006 to create an enduring artistic record of the people whose vision and dedication make a positive, tangible difference to the quality of life in Alexandria.
Platinum and Gold sponsors this year are the Alexandria Commission for the Arts, Alexandria Toyota, Club Managers Association of America , Dominion, Goodwin House, Inc., Gregg & Monica Murphy on behalf of Senior Services of Alexandria, Linda Hafer, Renner & Co. and Nina Tisara.
This is one of a series of profiles that will appear this year. For information, to volunteer, become a sponsor or nominate a future Legend, visit www.AlexandriaLeg... or contact Info@AlexandriaLe.... The deadline for 2015 nominations is Oct. 15.
Community service is a core value of Tricia Rodgers. Her family and her high school instilled in Rodgers the importance of volunteering and civic engagement. It is so much a part of her life that she is guided by a quote from President George H.W. Bush that says, "Any definition of a successful life must include serving others." Rodgers definitely has a successful life because she has spent decades serving others.
For over 30 years, Tricia Rodgers has volunteered with, and advocated for, programs that help to improve the lives of Alexandrians. Her volunteer work started in the 1970s when she was a counselor with an Alexandria program to support women in crisis. Since then she has undertaken many volunteer leadership roles including as a director of the Northern Virginia AIDS Ministry, the Alexandria Tutoring Consortium and the Virginia Oral Health Coalition. For the past five years, Rodgers served as co-chair, and now chairs, of the Alexandria Childhood Obesity Action Network (A-COAN), a work group of the Partnership for a Healthier Alexandria. She also serves on the Partnership's Steering Committee.
Additionally, Rodgers is a member of St. Paul's Episcopal Church and serves as a lector and lay Eucharistic minister. She was the first chair of the church's Green Team that fosters stewardship of God's creation by promoting sustainability and resource conservation at the church and in the home.
Rodgers describes herself as an Army brat who first moved to Alexandria with her family as an infant. She graduated high school from St. Mary's Academy on Russell Road. After St. Mary's Academy, Rodgers received bachelor's and master's degrees from George Washington University and a master's in social work degree from Catholic University.
Rodgers has a variety of work experience that includes both government and community service. She worked on George H.W. Bush's 1980 presidential campaign and during the Reagan Administration held appointed positions in vocational education at the U.S Department of Education and then, the federal Interagency Council on Homelessness. President George H.W. Bush appointed Rodgers to be the director of Volunteers in Service to America (VISTA).
When Rodgers left her VISTA position, she was hired by the United Way of the National Capital Area (UWNCA) to be the director of Social Planning for the Fairfax/Falls Church Regional Council. After a time there, Rodgers moved to staff the UWNCA's Alexandria Regional Council and started making a major impact in Alexandria. During this time, Rodgers worked with Regional Council leaders as well as many community organizations to develop and implement strategies to accomplish the council's broad community initiatives. When asked about Rodgers' work in the community, John Porter, president and chief executive officer of ACT for Alexandria, said, "I first met Tricia through the United Way's Alexandria Regional Council and quickly discovered her caring and concern for others. As we worked together, her leadership abilities became evident as she helped guide thinking and action on how best to address some of the important issues we were facing as a community."
In 2005, Rodgers left the Alexandria Regional Council to become executive director of the Arlington Community Foundation. Rodgers is now back in an office in Alexandria in her job at the Northern Virginia Health Foundation. Rodgers is a program officer at the foundation responsible for managing health grants awarded to communities and building and sustaining community coalitions throughout Northern Virginia.
For many years, Rodgers, a master gardener, has been gardening at the Chinquapin community gardens. She says that gardening is her passion in life and she finds peace working in the soil in her garden. She has successfully married her gardening passion and volunteering commitment resulting in improving the health and wellness of Alexandrians. Through Rodgers' leadership, A-COAN increased access to healthy foods for adults, children and youth by providing funding and educational opportunities to establish and maintain gardens plots as well as becoming more knowledgeable about nutrition. In 2010, A-COAN worked with the Alexandria Redevelopment Housing Authority (ARHA) to create garden plots for adults and a children's garden at the Ruby Tucker Center at Hopkins and Tancil Court. Rodgers' connections with Virginia Cooperative Extension's master gardeners program resulted in the master gardeners volunteering to provide gardening education for the participating adults and children. Over the last two years, A-COAN provided mini-grants to community organizations to start a new garden or to expand existing ones. Some of the organizations that received gardening grants include the Arlington-Alexandria Coalition for the Homeless, Agudas Achim, ARHA's Montgomery Learning Center, Community Lodgings, Farlington Preschool, and Friends of Guest House. While all of these garden projects are important, Rodgers receives her greatest joy from the children's gardens. She said that "it's fun to watch little kids work and play in a garden and see them connect the dots between putting seeds and plants in the ground and having them grow into something they can eat."
Not stopping with gardening as the only means for Alexandrians to access healthy foods, Rodgers successfully advocated for Alexandria's Old Town/Market Square and the Four Mile Run farmers' markets to accept food stamps (Supplemental Nutrition Assistance Program) so individuals and families could more easily afford fresh fruits and vegetables. She also formed a working group that assessed the strengths and weaknesses of Alexandria's emergency food system to improve the system and ensure that individuals and families have better access to food, especially healthy food, during times of crisis. The working group publically released its report titled, "Toward an End to Hunger in Alexandria" last month and Rodgers is now actively engaged in building community support to implement the report's recommendations.
Additionally, Rodgers successfully led efforts to promote breastfeeding in Alexandria by working for the passage of a breastfeeding resolution by the City Council in March 2011. She also successfully advocated for the establishment of breastfeeding rooms for new mothers and their babies in government and private business offices. Several of the city's government buildings now have breastfeeding rooms and in August 2013, a breastfeeding room was established at the Casey Clinic.
Rodgers has also been a leader of efforts for improving the quality and quantity of play spaces in Alexandria so children and youth have more opportunities for active play and exercise. Through her leadership, A-COAN sponsored a community-wide assessment of public and private play spaces in Alexandria and awarded small grants to improve the quality of some of the playgrounds in Alexandria. She was also instrumental in developing and advocating for an Alexandria play space policy which was adopted by the Alexandria City Council in October 2013. This policy provides a comprehensive framework for addressing the unique needs, importance and benefits of play spaces in our city.
As a result of Rodgers' volunteer work and related accomplishments over the years, especially through her leadership with A-COAN, she is recognized as a leading public health advocate in Alexandria. According to Dr. Stephen Haering, Alexandria's health director, "Tricia brings clear thinking to complex issues and maintains a focus on strategies and activities that will have a meaningful impact on the health of Alexandrians, particularly those most in need. I have the upmost respect, admiration and gratitude for Tricia and the great public health work she has accomplished."
Allen Lomax is chair of the Partnership for a Healthier Alexandria. He was named a Living Legend of Alexandria in 2012.