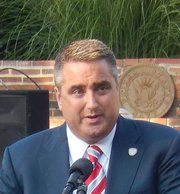 In collaboration with the Northern Virginia regional Commission (NVRC), the Fairfax City Council will hold a planning workshop, or charrette, about the downtown area in early November.
"It's to identify near-term and long-range goals," explained Brooke Hardin, director of Community Development and Planning. "It's a hands-on, design-oriented process involving both citizens and professionals."
Topics to be addressed will include land use, transportation, urban design, housing, economic development, pedestrian/bicycle access and linkages between downtown and GMU. Participants will also include business owners, residents, and representatives from GMU and Fairfax County.
"This comes as the City's first phase of revitalization is well underway and there are a number of other, downtown sites available for development and infill development," said Hardin. "The NVRC would organize, co-host and do fundraising for the event."
NVRC's initial draft budget for the event is $86,842, but Hardin said anticipated savings would reduce it somewhat. Contributions to be solicited from businesses and institutions, including GMU, would reduce the City's expenditures. Dates under consideration are Nov. 6-8.
"We need to seize this opportunity."

— Scott Silverthorne, Mayor, City of Fairfax
"Our downtown revitalization is a work in progress," said Mayor Scott Silverthorne. "The improvements on North Street are a huge improvement, [but] there's a need to expand our downtown area to create a destination point. This would be a partnership with GMU, which also wants to bring more people downtown. Mason also wants more residential units for its faculty and students."
Furthermore, he said, "I notice all the empty parking lots between Chain Bridge Road and University Drive. I think we could put infill development there, but we can't do it ourselves without outside planning resources. We need to seize this opportunity."
Agreeing, Councilman Michael DeMarco said, "Many of us on the Council have talked about the extension of downtown, especially toward George Mason. And an event like this would give us a structure around which to have a discussion – I'm all for it."
Silverthorne noted that "the business leaders downtown and the community residents will really be involved in this."
"We've got to look at this as a great investment in our future and a step in the right direction," said Councilman Jeff Greenfield. "But we need people to come to it with positive ideas."
Also pleased with the proposal, Councilman David Meyer said, "There's an enormous amount of impervious surface in that area. That open-space, paved asphalt offers us an opportunity to do something creative."
However, Councilwoman Nancy Loftus said she's not opposed to the idea, but was concerned about a possible $86,000 cost, if the City couldn't get sponsorship. Besides that, she said there's "no guarantee that, at the end of three days, there'd be anything we'd like or could implement, since much of it involves private-property and business owners. And we could get great ideas from our City staff members for a lot less."
Silverthorne said GMU will be a sponsor and "we won't sign a contract without first having sponsorships. You've made some fair points. But I fear the downtown is languishing, and this is one solution to do something about it."
Councilwoman Janice Miller said the City needs to "start with a broad vision in mind of where we want to go, instead of leaving it up to the developers. I'm more than willing [for the City] to spend $25,000 to make this happen. I'm in."
Silverthorne said he'd ask some of the downtown's larger businesses to chip in, too, and City Manager Bob Sisson said he'd do what he could to "limit the City's exposure to $25,000." The Council then approved going ahead with the charrette by a vote of 4-1, with Loftus voting no.