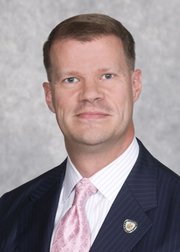 It's full speed ahead for a planning workshop, or charrette, the City of Fairfax will hold in November. It'll do so along with the Northern Virginia Regional Commission (NVRC) and the focus will be on the downtown area.
It's a hands-on, design-oriented event and will involve both professionals and residents. The idea is to help the City identify and learn how best to work toward its short-term and long-range goals.
Also taking part will be business owners and representatives from GMU and Fairfax County. Topics on the table will include land use, transportation, urban design, housing, economic development, pedestrian/bicycle access and linkages between downtown and GMU.
The charette will run three days, Nov. 6-8. And following a public hearing on Tuesday, Sept. 23, the Fairfax City Council voted to approve spending the money required for its participation. That amount will not exceed $25,000, and GMU — which considers Fairfax its hometown — has agreed to pay whatever the City does.
However, since the entire cost of the charrette is estimated to be more than $80,000, sponsorships are needed to foot the rest of the bill so Fairfax's cost won't rise beyond what it's willing to pay. But Fairfax City Mayor Scott Silverthorne said he was "pretty optimistic" they'd be able to raise the requisite funds.
"We sent letters to 25 entities [requesting sponsorship contributions]," said Brooke Hardin, director of Community Development and Planning. "NVRC is handling it on behalf of the City and will follow up with them."
Saying he's interested in the City's economic growth, resident Tom Ross said, "It seems that this is an excellent idea to look at the downtown area and a wonderful way to [learn] the next steps the City needs to take to promote a viable and thriving downtown. It gets the public involved and promotes partnerships to invest money, heart, interest and support. As a longtime resident, I strongly support this."
Councilman Michael DeMarco then made a motion to approve the funding resolution and Councilman David Meyer seconded. "Having a thoughtful approach to downtown expansion toward the university, in conjunction with GMU, makes sense," said DeMarco.
Councilwoman Nancy Loftus, however, disagreed. "I'm not in favor of this," she said. "It's a great idea, but there are still budget deficits and the need to watch our spending. So I don't think it's money well-spent, and we're asking our City businesses, during their own business crunches, to pony up money for the planning. And there's no guarantee we'll get a product, or one we like or one we can implement."
But Meyer stressed that the redevelopment of the Old Town area on North Street, University Drive and Old Lee Road was the "beginning of a commitment" to protect Fairfax's historic buildings and invest in a new and more vital downtown.
"The money we're spending [on the charrette] is minimal when you consider the kind of professional assistance and leadership we'll be getting," he explained. "If we don't do this, we'll continue to have what we have, so I urge my colleagues to support this."
"We're doing this as an investment in our future."

— Jeff Greenfield, Fairfax City Councilman
Agreeing, Councilman Jeff Greenfield said, "This is an investment where the return could be 10 or 15 times the amount we put in. We could discuss the redevelopment of Courthouse Plaza and several downtown parking lots. We're doing this as an investment in our future, not a one-time line item."
The motion then passed, 5-1, with only Loftus voting no. Monday afternoon, Sept. 29, the mayor said the charrette will happen, but more sponsorships are still needed.
"We now are where we need to be, in terms of fundraising to put it on," said Silverthorne. "But we'd like to raise more money to make it a more robust program, so the fundraising is still ongoing — and not just among the large businesses. We're hoping even small businesses will contribute, as well as participate in the charrette and all its workshops."
"This is a citywide event," he continued. "We want people from all around the city to participate, not just the downtown businesses. Other businesses can help contribute good ideas to make the downtown even stronger. They say a rising tide lifts all boats, and I truly believe that, the stronger and more successful the City is in one place, the better we can build on it to expand our economic success elsewhere in the City."