This upcoming 2014-2015 school year, local elementary schools have much in store for students, especially with the full Monday schedules. The Connection takes a look at three elementary schools as to what parents and students can expect come September.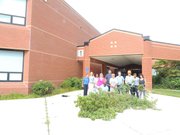 Bonnie Brae Elementary
Q: What is new this year?
Principal Kathy Bruce: "We are infusing a math lab for our primary grades. Bonnie Brae is excited to be able to work on improving math skills among its students with the extra time they've gained through full-day Mondays. It will be in addition to the regular math that they'll be having in the classroom."
Q: Single most important goal?
Bruce: "Our academic goal is really making sure that every student leaves the grade level at or above the reading level, because without reading, everything else doesn't fall into place."
Q: Challenge?
Lead Special Education Specialist, Natalie Valenzuela: "Meeting kids' needs where they are socially and emotionally, I think sometimes having social and emotional challenges lends itself to bullying.
If we're just trying to build up students, and help them to become stronger, and who they are, then there aren't as many opportunities and need for that, the bullying, the meanness, and there is better understanding across grade levels as to what is appropriate."
Q: Upcoming dates?
Aug. 28: Open House

Sept. 9, 15, 16: Back to School nights
Laurel Hill Elementary
Q: What is new this year?
Principal Suzie Montgomery: "We will have local level four. Local level four is part of the Advanced Academic Programs that starts in third grade. Schools have the option to start the program within the school...so kids can stay in their base school.
We will also have what is called a multi-age program in grades one and two. [It will be] three classes of students in first and second grade which will be combined and will learn together.
Q: Single most important goal?
Montgomery: "It's always our goal to make sure that our students are reading on grade level. I believe that reading, writing and math...they're the basis for everything."
Q: Challenge?
Montgomery: "[A challenge is] to provide the best education for the students, and meet those needs. That's what we do all the time."
Q: Upcoming dates?
Aug. 25: Kindergarten Playdate

Aug. 28: Open House

Sept. 10, 11: Back to School Nights
Union Mill Elementary
Q: What is new this year?
Principal Kathleen Case: "We are happy to just be maintaining this year. For the past three years, Union Mill Elementary has undergone summer renovations and become accustomed to the melody of jackhammers and 'toilets in the lobby.' But now, the construction is complete and the school even featured a RecPac over summer vacation."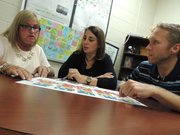 Q: Single most important goal?
Case: "To really work on core instruction with children as well as focusing more on those critical and creative thinking skills.
We've made headway, but we want to be more focused about it. We don't want to necessarily try 50 new things. We just want to focus on...student learning."
Q: Challenge?
Case: "Continuing to build our community...just continuing to build on the great community that we have, and it's just continuing to build that Union Mill family with staff and/or families."
Q: Upcoming dates?
Aug. 28: Open House

Sept. 12: Back to School Picnic.

Sept. 9, 11: Back to School Nights