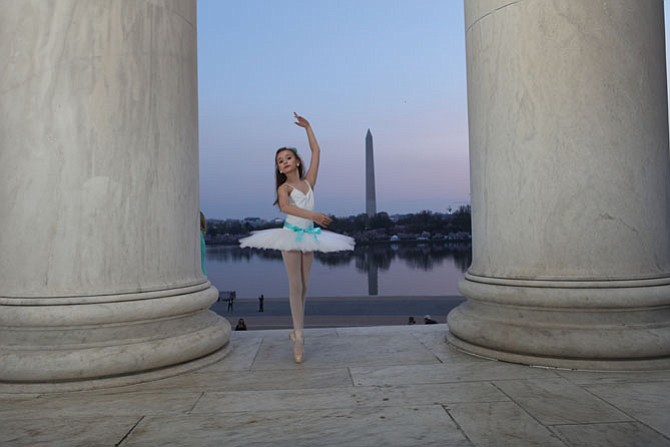 How many people can say they've truly lived out their fantasy? And of those, how many by age 11? When the curtain rises next week on the Ballet West production of Tchaikovsky's holiday classic "The Nutcracker" ballet at The Kennedy Center, Tillie Glatz will be living her fantasy.
The Fairfax Station ballerina was cast as one of two local dancers to play Clara, a central role in the William Christensen-choreographed show. She and another girl will alternate across the seven performances taking place Dec. 10-14. "It's awesome, because I've wanted to be Clara for so long," said Glatz.
"Tillie was really spectacular in that she was a good actress," said Cati Snarr, the Ballet West Children's Ballet Mistress who traveled to Washington, D.C. from the company's base in Utah with Artistic Director Adam Sklute for auditions in September. "She had still a little girl look about her, but a maturity in her dancing, as technically proficient as someone that age can be."
Clara won't be Glatz's first major public appearance, having been dancing competitively since age 2. "She woke up every day going, 'Is it dance day?'" said Glatz's mother Shanna.
Tillie recently performed as the "Little Dancer" for the National Gallery of Art's Degas/Cassatt exhibition and on the National Mall in September for the CureFest for Childhood Cancer.
But for Clara, Glatz had to step up her acting chops. "Her character is actually like a brat a little bit," she said. "When I get the nutcracker, I start to show it and go 'No,' and pull it back. And I cry a lot. I would probably cry too if there was a big mouse with three heads in my living room."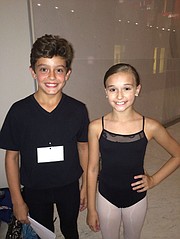 Glatz was cast alongside her friend Preston Cubbage of Springfield, who won the role of Clara's brother Fritz. The two grew up dancing together. Typically companies such as Ballet West and the American Ballet Theatre will bring their own complete cast to The Kennedy Center. But the selection of talent like Glatz and Cubbage convinced Snarr and Sklute to shop local.
Their D.C. cast includes 76 children that will heavily populate the work's large party scene.
"Fritz is supposed to be precocious and Preston is exactly that," said Snarr. "He's just menacing enough in his acting, that made him counterbalance Tillie's demure personality. They'll play off each other really well."
Glatz trains with the Kirov Academy of Ballet in D.C. while Cubbage puts in time at the Strictly Rhythm Dance Center in Alexandria. At 12-years-old, he followed the dance steps of his older sister Madison and picked up the art eight years ago.
"I'm looking forward to seeing all his hard work come to life onstage and for him to be happy," said Cubbage's mother Danine.
In addition to their studio training regimen, the D.C. Nutcracker cast has been rehearsing three days a week, several hours per day. At the beginning of next week, the full cast from Utah arrives and rehearsal times ramp up. Ballet West already opened their more than 40-show tour outside of Salt Lake City.
"The Nutcracker" runs at The Kennedy Center Dec. 10-14, with shows at 7:30 p.m. each day and also 1:30 p.m. on Dec. 13 and 14.