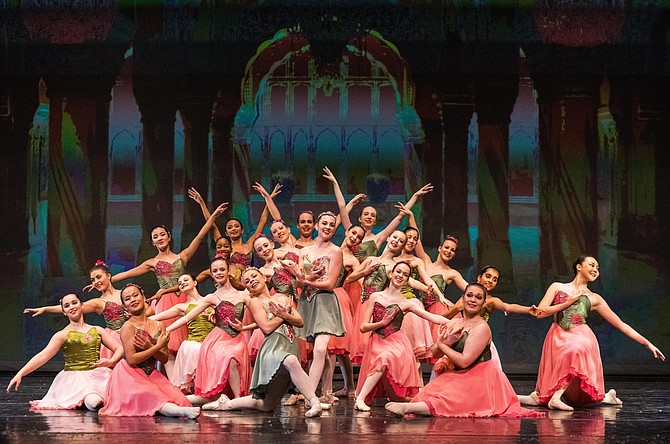 With a combined more than 110 years as Fairfax County performing arts organization, the Fairfax Symphony Orchestra (FSO) and the Fairfax Ballet Company are collaborating to present the captivating masterwork, Tchaikovsky's "The Nutcracker."
Along with live musical accompaniment by the Fairfax Symphony Orchestra directed by Christopher Zimmerman, there will be more than fifty dancers on the big Center for the Arts stage from The Fairfax Ballet as well as special soloists and American Ballet Theatre alumni Elina Miettinen (Sugar Plum Fairy) and Sean Stewart (Cavalier) performing original choreography.

"There is a reason that 'The Nutcracker' is so popular. Of all Tchaikovsky's Ballet Pieces – and they are all wonderfully evocative musically – it is perhaps the most imaginative in terms of orchestral color (use of instruments) and variety between "serious" dramatic music and set pieces for dance," said Christopher Zimmerman, Music Director and Conductor, FSO.
"With the 'Nutcracker,' Tchaikovsky wrote not only his final ballet, but a piece which synthesizes the best of his symphonic writing and his writing for the stage," added Zimmerman.
"The Nutcracker" story begins on Christmas Eve in the home of two young children, Clara and Fritz. The family gathers around the Christmas tree. Soon, they welcome the arrival of Uncle Drosselmeier, a toymaker bringing gifts. Audiences will then take in a transition from reality into fantasy with waltzing snowflakes, a handsome prince, and some mischievous mice as the toys come to life for a truly memorable night.
"We're incredibly honored to join the Fairfax Symphony in our fifth production of 'The Nutcracker'," said Karla Petry, Executive Director, Fairfax Ballet. "Audiences are in for a special treat."
"We are proud to maintain the long standing tradition of our productions, while finding unique ways to add new opportunities for our dancers and surprises for our long standing audience members," said Andrea Cook, Artistic Director, Fairfax Ballet. Cook is a Fairfax County native and Chantilly HS alum.
Fairfax Ballet principal dancers include Nicole Shortle, age 16, of Oakton, and a sophomore at Oakton High School in the treasured role of Clara. Carlos Martinez, attending George Mason University, School of Dance will dance as the Nutcracker Prince. Northern Virginia's Aleksey Kurdrin will be Herr Drosselmeier and Philip Smith-Cobbs will dance the Arabian pas de deux. There will also be more than four dozen dancers and students on stage ranging from 7-19 from Fairfax, Loudoun and Prince William counties.
"From the incredible dancers on stage, live music by our full FSO orchestra, and beautiful, high definition, digital scenery, it's sure to be a magical experience for the whole family," said Jonathan Kerr, Executive Director, FSO.
A beloved Holiday season event is coming courtesy of Fairfax's own, Fairfax Symphony and Fairfax Ballet.
Where and When
Fairfax Symphony Orchestra and Fairfax Ballet present Tchaikovsky's "The Nutcracker" at Center for the Arts, Concert Hall, George Mason University Campus, 4374 Mason Pond, Drive, Fairfax. Performances: Saturday, Dec 21 and Sunday, Dec 22 at 4 p.m. Tickets: $49, $69 and $89. Call 703-993-2787 or visit www.fairfaxsymphony.org.