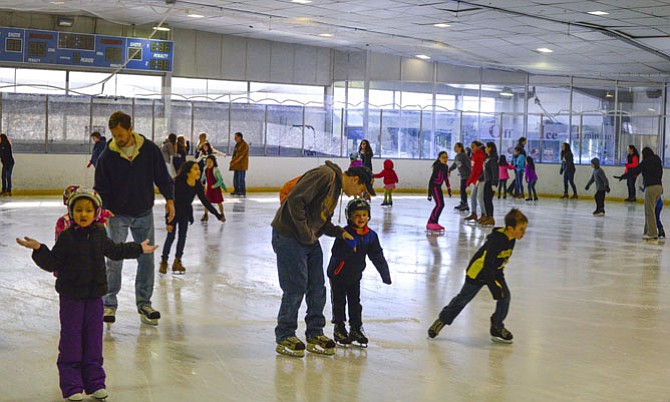 For some ice-skating is a challenge, especially for those of us who didn't grow up in colder climates. Trying to stand on ice skates, stopping, and turning takes some practice. For others ice-skating is part of being in a hockey league or improving one's skills in competitive skating.
And for some it's a special time to return to the ice and introduce their children to the fun of skating. And so it was for one family this past Sunday at Fairfax Ice Arena.
Katie Patrick of Falls Church with her husband, Kellen, introduced their 2 and a half year-old daughter, Lily, to ice skating. What made it especially memorable is that Katie has not been on the ice for six years, even though she used to compete in the Chicago area. She used to be able to perform edge and toe jumps. "I wouldn't try it now", Katie said. "I'm a bit rusty." At this Thanksgiving weekend she was able to finally introduce her daughter to the ice.
Fairfax Ice Arena is on Pickett Road in Fairfax and is the go-to place for the beginner and to those wanting to improve their abilities and perform in competitive matches. They offer a wide selection of Holiday events including hosting Cub Scout Ice Skating Days on Dec. 6, 7, 13 and 14.
During the month of December Fairfax Ice Arena is offering extended hours and a special "Skate with Santa" on Dec. 6 and 13 during their public ice sessions from 12-3:45 p.m.
— Terrance Moran