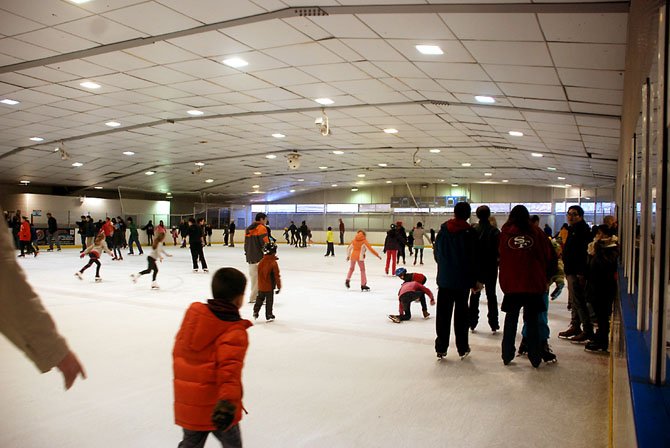 It's one of life's ironies: we love to complain about how cold it is, yet the arctic activity of ice skating continues to be a major recreation destination. Though he's been a hockey guy all his life, Fairfax Ice Arena Manager Andy Heckmann doesn't get it either. "I never understand the psychology," he said, "why people come here when it's cold."
WHATEVER THEIR REASONING, skaters of all shapes and sizes are coming in from the freezing outdoors en masse to greet the chilly rink inside at Fairfax. In addition to public skating hours offered seven days a week, all year long (except Christmas Day), the nearly 40-year-old arena hosts all levels of skating lessons and camps, birthday parties, five divisions of Fairfax Hockey League for adult players and a slew of competitive figure skaters with the Skating Club of Northern Virginia.
Serving as inspiration for the young skaters training on-site is the fact that two-time Olympic figure skater and WT Woodson High School graduate Michael Weiss once trained in the very same rink. Weiss, a national champion and World bronze medalist, worked with coach Audrey Weisiger who had married into the Weisiger family that still owns the facility.
Though Weiss' one-time presence and history enhance the rink's popularity and charm, Heckmann doesn't think there's that much more draw for skaters than the simple paradoxical truth: "If it's winter, and it's Saturday, it's usually pretty insane," he said. At least until the Zamboni makes an appearance.
Viewpoints
Why do you like coming to the Fairfax Ice Arena?
Tiffany Lee, junior, Robinson Secondary School
"We're here because it's my sister's birthday party today. I like skating in general, and I never fall. She falls [points to friend, Bonnie].
Bonnie Chung, junior, Robinson Secondary School
"I like this rink because you can come and skate in any season, any time. I like Reston too, but Fairfax is better because sometimes Reston is way too cold."
Leathy Leggett, housewife/photographer, McLean
"We come once or twice a year with our three children. Today, they were bored, and it's cold out, so here we are! And we wanted to wear them out so we can watch the Super Bowl."
Kate Main, freshman, Robinson Secondary School
"I love to go here to spend time with my friends in the wintertime. I'd consider myself a good skater, my friends are OK. It's basically the one thing we do together in the winter."
Grayson Kilgo, senior, Robinson Secondary School
"Ever since I was in elementary school, my sister and I took lessons at Fairfax Ice Arena, so we've known it for a long time. I still go with my whole family."
Victoria Lewan, sophomore, Robinson Secondary School
"My mom used to be a figure skater, so we would come here a lot. We would bond over that. She didn't push me into it—it's too expensive. Instead I became a swimmer."