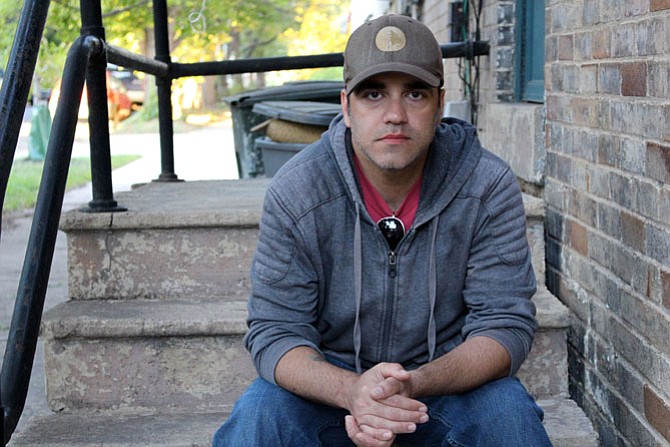 After growing up in Tennessee, and a three-year stay in Greece when he was 14 through 17, Chris Kiros came to Alexandria. He now lives in Belle View with his wife, Christina, and seven-year-old son, Lucas.
In 1996, 21-year-old Kiros attended New York University for a course in filmmaking. By then, all work was done on 16 millimeter film and editing was done by literally cutting the film, not by using a shortcut on a computer.
"It was a great experience," Kiros said, explaining how he had to learn it all over again when filmmaking went digital.
Kiros started getting into film making when he was 10 years old after he had seen "Ferris Bueller's Day Off." Kiros liked storytelling as a child and always imagined he would write a book.
"I never thought filmmaking was possible, never thought it was something I could do," he said, and takes another sip of the Gatorade in his hand, an aftermath of the previous night's 20-year West Potomac High reunion.
Kiros' latest film, "The Maladjusted," is loosely based on himself and his high school friends after they graduated. The movie follows a group of friends in Alexandria who experiences long nights, late mornings and the art of growing up. Kiros had always wanted to shoot a movie in Old Town because it is where he and his friends hung out and went to work.
He wanted to write something simple and without a lot of special effects because he had to keep the costs down.
Kiros said that writing is always tough, but once it begins to flow it's easier, but the budget is what really affects things. If he had had unlimited funding for the movie, there would be two things Kiros would change. The first would be sound, and he would also "burn every one of the DVDs and make it Blue Ray instead." He is very happy with the music and acting performances.

"I don't recommend [film making] for anyone. You can't stop. It's like heroin. Not that I know what it's like to be on drugs. The pain and the suffering fades quickly, it's like with kids. They cry for six months and then you want to make another one," Kiros said.
"The Maladjusted" won Best Ensemble Cast at the Orlando Film Festival in October, and John C. Bailey, who played Yon Zamolla, was nominated for Best Supporting Performance.
Jerry Cavallaro, associate director of Orlando Film Festival, said the programmers found the film to be a fun and emotional reflection of the struggles on writing and friendship. "Aside from the story and tight script, the film is excellent on a technical scale as well. Chris Kiros has a great eye for composition and finding the best way to present the story," Cavallaro said.
Josh Davidson, producer, director of photography and editor of "The Maladjusted" said he learned a lot from making the movie. Davidson and Kiros have created movies together before but this was different. Previously they had done horror films with a lot of special effects, but this time they focused more on casting.
"Chris Kiros is great to work with," Davidson said, "He and I have become good friends since the cast me in ZOMBthology. We have a great working relationship and we don't let each other settle or get complacent on a film set, no matter how tired we may be."
Visit http://www.imdb.com/title/tt2041510/ for more.