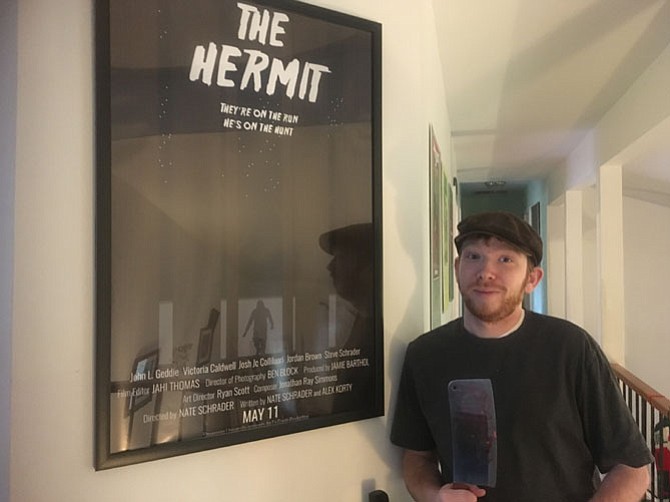 Chantilly — In "The Hermit," a hermit was doing what hermits do until a band of kidnapping drug dealers came to his abandoned farm, resulting in gore and violence that slasher movies are famous for. This locally filmed movie earned Nate Schrader and the crew a Bronze Award in the "2017 Spotlight
Horror Film Awards" contest.
Schrader, a Chantilly resident, just graduated from film school, and the award is an early step into the world of filmmaking that began with theater classes at Westfield High School, followed by a television production course at Fairfax High School during his senior year. "I've always been into horror films," Schrader said.
The original "Halloween," film with Jamie Lee Curtis made an impact on Schrader, and "The Hermit," has an element of that film in the form of the heroine fighting back instead of just becoming a victim, as Jamie Lee Curtis did in the 1978 thriller. "That dynamic really inspired 'The Hermit,'" he said. Victoria Caldwell, a fellow student at Stevenson University in Elkton, Md., played the part of the rebellious heroine, Jamie Barthol was the producer, Ben Block the director of photography, and Alex Korty a co-writer. All but Block had ties to film school at Stevenson University. Block works part time at Fairfax Access Channel.
The fight scenes were a high point to Caldwell, and filming them in the dark at Cox Farms in Centreville added more drama. "It was fun because we got to take these fights beyond the stage and do them at an abandoned farm which was a little creepy in the dark," she said. "I'd like to think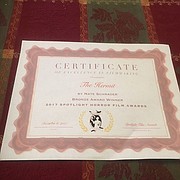 that if I ever find myself in the situation that Alex (her character) did, I would react in the same the way."

QUIET ON THE SET
Cox Farms is right around the corner from the Schrader's house and a few members of his family were employed at the farm through the years so it wasn't hard to get their permission. Instead of using the Cox Farm main areas or their "Fields of Fear" section that is popular around Halloween, "we used a lot of the employee areas," he said. His house was the place where they all gathered every Saturday evening, ate a home cooked meal courtesy of his mother, and then headed out to the farm to film. They finished at the farm between 2-5 a.m. and slept at the Schrader's house.
His father, Steve Schrader, has experience with acting and stunts in professional theater, and ended up being the hermit in the film. Since he has a burlap shroud on his head, and doesn't say anything throughout, "it was real easy to remember my lines," Steve Schrader said.
In one scene, Steve Schrader was at Cox Farms getting set up and found a spot near the greenhouses by chance and recommended it for the next scene. That type of collaboration was present throughout the production. Things evolve on the set, a common happening in filmmaking, Schrader learned. "You make a film three times — when you write it, when you film it, and post-production when you edit it," he said.
Fellow film student Jamie Barthol was involved with the fundraising and casting calls on "The Hermit," but also read the scripts and provided comments when she had an idea. Although she's not a big fan of the blood and gore part, she is writing and producing a psychological horror film for her senior project that Schrader is helping out with producing when the time comes. Barthol was homeschooled in high school, so film school was an opportunity for her. "I think my favorite part of film school is being able to meet so many like-minded people," she said. She also did an internship with the Austin Film Festival Screenplay Contest across one summer so the script writing is an area she's pursuing after graduation.
Student film projects are nothing new to Cox Farms according to Aaron Cox, one of the owners.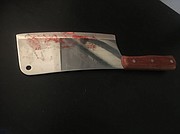 They've hosted other film students projects and even full-length films. "We're always happy to support local artists, and we recognize that we have a lot of unique backgrounds, spaces, settings and props," he said.
The Spotlight Horror Film Awards commemorates and promotes talented filmmakers of all experience levels through a global horror film competition, according to information on its website. "The Hermit" was in competition with other horror films of the December 2017 such as "The Moose Head Over The Mantel," "She Came from the Woods," "Rotten Love," and "Nudist of the Living Dead," which earned a Spotlight Gold Award. Schrader will continue to look for opportunities to submit the film in festivals while looking for the break that up and coming film producers sometimes rely on.