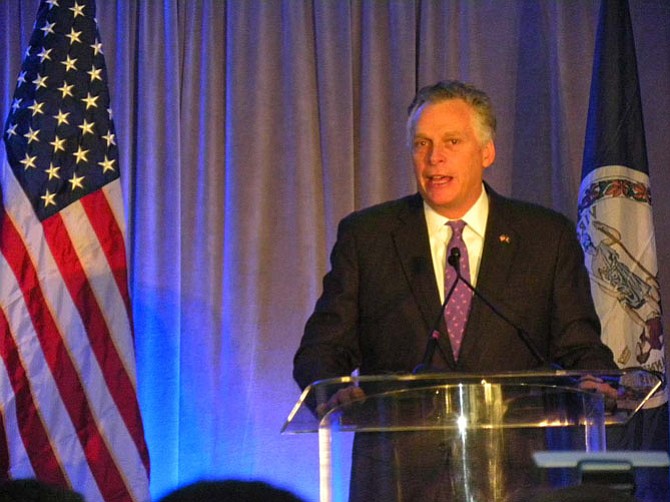 Photo Gallery
95 Express Lanes Open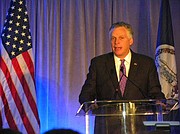 Click Photo for Flash
The 95 express lanes opened on Sunday, Dec. 14, after a decade of planning and since breaking ground almost two years ago. Gov. Terry McAuliffe--joined by Senators Mark Warner and Tim Kaine, U.S. Secretary of Transportation Anthony Foxx, members of the Fairfax, Prince William, and Stafford counties board of supervisors, and representatives from VDOT and Transurban--cut the ribbon on Wednesday, Dec. 10 in Alexandria. Drivers will have two weeks of free use before tolling starts on Monday, Dec. 29.
McAuliffe praised the work of all involved in the project, especially the people who moved the dirt and poured the asphalt, "We wouldn't be here today," without them he said. He extolled the private-public partnership (P3) of VDOT, the Virginia Department of Rail and Public Transportation, the Federal Highway Administration, and Transurban, which made the completion of the project possible. "P3s are great but only if they are negotiated in a way that puts taxpayers first and holds people accountable," he said. He reminded the crowd of the failed P3 on Route 460 in southeastern Virginia with US 460 Mobility Partners in 2012, which was halted last March amid environmental permit and cost concerns. Between $400 to $500 million of state money went into the Route 460 P3 without ever breaking ground.
Virginia Secretary of Transportation Aubrey Layne said that unlocking congestion in key economic corridors is part of the governor's plan. The express lanes will allow for diversification of businesses and tourism, said McAuliffe. "When Virginia grows, America grows," he said.
Quality of life and giving people options and choices are the rewards for commuters. Stafford County Board of Supervisors Chairman Jack Cavalier said that the express lanes are important to the quality of life for the thousands of Stafford County residents who make the daily trek to work in Northern Virginia.
Supervisor John Cook (R-Braddock) said that the lanes give another option of how people can move around. "You can actually live down in Prince William, even Stafford County, and have a job in Tysons Corner and be able to get to work. That wasn't the case before."
"Whether you gotta get home to your kid or whether you have a critical work appointment, it gives you a choice in how to get there," said Supervisor Pat Herrity (R-Springfield).
Senator Warner echoed the sentiment saying that he has seen the commute go from "two hours to forever," and that the completion of this project is a "great day for Northern Virginia and the Commonwealth."
Though the express lanes will not solve all the problems with congestion, construction manager for the project John Morse, of VDOT, said that the addition of a third lane will solve a number of problems and give people options other than waiting in traffic. "People will have some freedom to do some things they couldn't do otherwise," he said, such as having the ability to bypass areas of heavy congestion, thus facilitating work schedule and personal life.
Secretary Foxx said that Virginia is on the path of a "growth tsunami"--with a projected 100,000,000 increase in population in the southeast region of the U.S.--and its completion of the 95 express lanes, funded in part by a $300 million TIFIA loan from the U.S. Department of Transportation Federal Highway Administration, is a step to get ahead of population growth.
Still, Foxx said that "we are woefully under investing in the infrastructure of this country." A blow to future investments is the Federal Highway Trust Fund shortfall announced by Sen. Warner. "We at the federal level have work to do," said Warner, such as permanent funding source for transportation and national infrastructure financing that fall under the Grow America Act, a $302 billion transportation proposal.
But at the opening celebration, everyone is proud of the work completed on the 95 express lanes. "Some people are here taking credit for projects they didn't like," joked Sen. Tim Kaine. Senator Warner quipped about naming opportunities for sections of the lanes. Secretary Foxx wondered that with so many governors of Virginia in attendance whether Thomas Jefferson was present somewhere.
Virginia State Police Sgt. Alex Willey and his fellow officers are prepared when tolling starts on Monday, Dec. 29. They underwent extra training in the new gantry system and the way the tolls operate. "It's going to be interesting when it opens," he said. But they are prepared.
Commuters should also be prepared. "The countdown is on," said Fairfax County Board of Supervisors Chairman Sharon Bulova, who urged commuters to get their EZ Pass today.