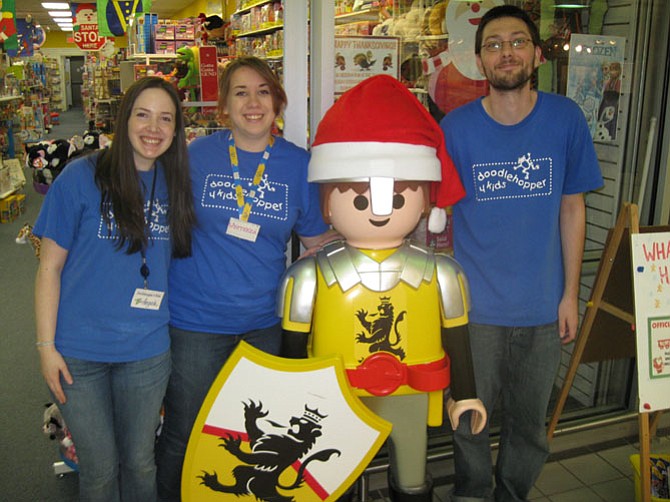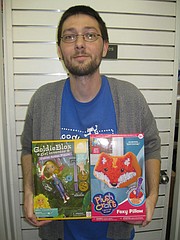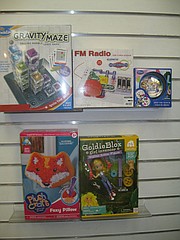 For toys, books, and baby and toddler gifts that tend to enlighten the child this holiday season, be sure to check out Doodlehopper 4 Kids, located in the Huntsman Square Shopping Center off of the Fairfax County Parkway in Springfield.
Owned by Terry and Phil Young of Arlington and in business for 22 years, Doodlehopper carries more engaging, inspiring, educational and learning toys rather than video or electronic games. The store selection includes everything from small stocking-stuffers like marbles and Mini Flyers for $19.99 to life-sized stuffed animal tigers for $79.99.
Other stocking stuffers include Thinking Putty, a rendition of Silly Putty in styles like glow-in-the dark, super magnetic, and heat-sensitive hyper colors for $14.99; Mixels or Lego character monsters that you build for $5.99; and Lego mini figures for $4.99 for the Series 12.
Their products are geared towards baby ages through tweens (ages 10-12), says Ryan Bowden, 28, assistant manager. "We carry mostly a lot of active toys that you have to get up and play with," he said. "We carry toys that feed the imagination -- like pretend dress up toys and fake food."
Fantasy butterfly wings are $17.99, and the whimsical masks are $8.99. Kids can take on the role of a chef with New Sprouts fresh-picked fruit and veggie tote that sells for $29.99 (for ages 2-plus). Or nurses in training can get the Role Play Pediatric Nurse uniform for $29.99.
What's popular this year are magnetic building blocks made by Magna-Tiles (32 pieces for $52.99). Built a little more flexible than Legos, Magna-Tiles are designed for kids who like to build things, said Bowden.
ANOTHER HOT ITEM is The Melissa and Doug Felt Playfood (sandwich set for $22.99), which is play food made of felt that sort of sticks together. "It's a great way to introduce a child to a variety of foods, and travel friendly too," said Bowden.
As an intro to human anatomy, the Squishy Human Body Set made by Smart Lab ($29.99) comes with a squishy toy human and a book that explains what the organs of the body do. It's popular for boys and girls, and a fun introduction to anatomy, said Bowden.
One of the top 10 most popular items in the store is a game called Spot It, The "Frozen" Alphabet edition ($16.99), which is geared for ages 3-8. The cards includes pictures, letters and characters from the movie, "Frozen," and will teach the alphabet while kids play. It's great for those who might not know all of the alphabet, and is very travel friendly.
For science and engineering toys for girls, the Goldie Blox Girl Inventor, Zipline Action Figure ($24.99)comes with a zipline that you attach to a banister or table. It illustrates points in science while also being fun for girls ages 4 and up.
The Foxy Pillow by Plush Craft ($16.99), popular for ages 5 and up, is a no-sew activity for girls who want to be crafty. You use the stylus to push the fabric into the three-dimensional pillow. It has the feel of sewing without having to use a needle and thread, and comes in a dozen different styles, including a puppy dog, initials, and best friends pillow frame.
Another hot toy is the FM Radio Kit by Snap Circuits ($25.99), for ages 8-108. It's a simple science kit for making things like a radio; other brands are a flying saucer and a motion sensor. The pieces snap together like snaps on your clothing and it's geared towards kids interested in learning basic electrical circuits. With the pieces that come in the box, you can make other things like an electronic kazoo, a trombone and a power amplifier.
The Gravity Maze by ThinkFun ($29.99) is a falling marble logic maze for ages 8 and up. This combines the fun of a marble run with the challenge of a logic game. It is a single player game with four different levels of difficulty. Players pick a challenge card that shows how to set up pieces on the board, which pieces you need to add to solve the puzzle, and where the marble starts and where it needs to stop. The solution is on the back, in case you get stuck.
"I love this store because it has unique activities for children," said Joy Neyland of Springfield. "It has a wide variety of unique toys that you can't find in the big box stores."
"They have a lot of educational toys and the help here is fabulous," said Lynn Gayer of Fairfax Station. "They have a lot of these things that you have to put together; they're games but they teach you something."
"It's easy to find a cool birthday present," said Caroline Maso, age 11, of Fairfax, who was headed to a birthday party with the String Art kit.
"The service is wonderful," said Kitty Greenstein of Fairfax. "You can get things wrapped; very few places will do that for you."
"We come here because they have toys that kids like," said Chris Lo Grasso of Fairfax. "Any toys we purchase here it's a safe bet for gifts or kids."
THE 2,000-SQUARE-FOOT Doodlehopper 4 Kids is located at 7521 Huntsman Blvd., Springfield VA 22153, in the Huntsman Square Shopping Center off the Fairfax County Parkway. There is a second store, Doodlehopper Too, at 234 W. Broad Street, Falls Church, VA 22046. To shop online, visit www.doodlehopper.com or call 703-912-7200. The email is doodlehopper4kids@gmail.com.