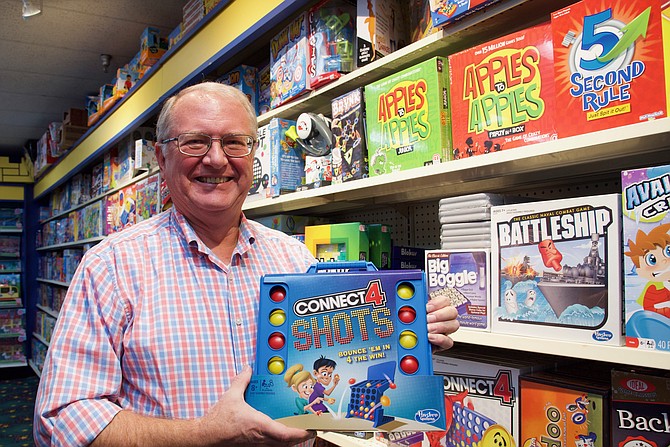 Ho! Ho! Ho! It's time to put on your Santa hats and head to Cabin John Mall for holiday shopping. This year, instead of searching through large department stores, jockeying for parking spots, waiting in interminable lines, seeking help from sales assistants who are just too busy to pay attention to your needs — head to close-by Cabin John Mall. You won't have to jostle through crowds or fight the traffic. If you need to fuel up your bellies before shopping, there are plenty of new restaurants and cuisine to select from. But the best news is that local store owners will give you their time and ideas to locate the perfect gift for a loved one, friend, work buddy — or even for yourself.
Check out the hottest gift suggestions from the owners of stores at Cabin John Mall. Each store stocks a variety of gifts that are sure to delight all ages from tiny tots to grandma and grandpa.
Occasions is the crème de la crème of gift stores. Owner Stephanie Menick is on top of the trendiest gifts for everyone in your family. Hot items this year for all are Swell and Corkcicle bottles — personalized with names, initials or sayings. Occasions can quickly personalize many items in the store to make fun, unique gifts.
Menick discussed some of her favorite items: "We have themed socks for the men-in-your-life that feature their interest, whether its sushi, cars, golf, another hobby or activity. Initial necklaces and notepads are always in demand as are monogrammed sport bags. The 'Giving Heart' items which feature 'A Giftable Hug' are warm, soft and fuzzy — wonderful for a friend who needs a hug. We have a lot of teacher, grandparent, baby and friend gifts too. And one of the most fun for the adults in your family is the 'Shiraz on the Shelf' fashioned after the popular 'Elf on the Shelf.' The wine glass magically is filled each morning when you find it in its new spot. We also carry fuzzy fleece sweatshirts and pants for cuddling up on the couch — perfect for staying warm in this cold weather."
Brian Mack has owned the Toy Castle for 39 Christmases. This iconic store has provided high-quality toys for birthday parties, holidays and special occasions since 1979. Mack has seen all types of toys go in and out of favor.
"There is no real hot toy this year, but toys that accelerate STEM programs, games, mermaids, Peppa Pig and llamas are popular," Mack said. "Gravitrax is a marble-run on steroids with all sorts of accessories that can be added. Girls love our Squishables in the shapes of macaroons, lattes, peanut butter and jelly — we even have an avocado. Kids and parents still enjoy playing games together and Connect 4 Shots is flying off the shelves. We offer a huge variety of toys, crafts, science kits, Legos — and complimentary gift wrapping too. Parents love to bring their kids here to pick out toys and games for their wish lists — we are the one place where kids can actually see and examine all the toys on the market, ask questions and make decisions about what they would like for gifts."
Next door to the Toy Castle is Hall of Fame Cards and Collectibles. This store is a shopping Mecca for sports gifts for fans of any age. It is packed with sports memorabilia, including old and new baseball, football and basketball cards; albums to help organize them; sports banners for favorite teams, sports jerseys, and warm pajama pants with team insignias; wallets, blankets and buttons. Owner Peter Averinos said his most popular items are: "Anything Capitals — for sure! We also sell lots of Washington, D.C. team clothing for the Nats, Terps, Hoyas and yes – even for the Redskins!"
Cell Fixx in the Cabin John Mall provides an extremely necessary service for all — cell phone repair. They repair screens, provide batteries, sell new and used phones, cell phone and iPad cases and prepaid cell phone plans — without a contract. Hot items for your techies this year are wireless chargers and video game cassettes.
Another long-time Potomac store in Cabin John Mall is Shoe Train. Like Toy Castle, this business was also founded in 1979 and is approaching its 40th anniversary of fitting children in comfortable shoes. They are a one-of-a-kind shoe store providing expert foot-measurement and the right shoes, slippers, boots and sports shoes. Marina Fradlin is the owner.
Store Manager Ken Neufeld has been with Shoe Train for 28 years and most of the staff has been there just as long. "We have parents who drive down from PA, Philadelphia, Northern Virginia and even further for our service and expertise," Neufeld said. "We fit kids with serious foot problems and also are trained in working with children with special needs — we will even open up the shop early if a child has difficulty with other shoppers, noise, etc. People come here for our huge selection, children's orthotics and our UGGS that fit baby through teens. Customers appreciate the obvious pleasure we get from a satisfied customer. Most of our customers come back every time their child needs new shoes."
Shoe Train is one of the few stores that carries Stride Rite shoes for children, a brand that is known for their high-quality shoes. For babies, they sell all sizes in "First Walkers." Also on display are numerous accessories including shoelaces of every color, sandals and flip flops, sunglasses and hair bows. One outstanding service they provide is asking customers to return gently worn shoes and then they are donated by Shoe Train to children without shoes in Sierra Leone and Haiti.