It was 1934 when an orphaned 15-year-old girl won an amateur talent contest at the Apollo Theater in Harlem. That fateful night, Ella Fitzgerald made a last-minute decision to sing rather than dance when she took to the stage, launched a new era of jazz that is immortalized in the rousing musical "Ella: First Lady of Song," now playing at MetroStage.
Based on the book by Lee Summers and conceived and directed by Broadway royalty Maurice Hines, "Ella" takes the audience on a musical journey through the celebrated singer's life.
Set in Nice, France, in 1966, the intimate theater has been magically transformed into a concert hall where Ella is about to take the stage only days after the death of her half-sister Frances. The poignantly written script gives a glimpse into the private heartaches Ella endured on her road to stardom.
Taking on the daunting role of Ella is recording artist Freda Payne, best known for her 1970s hits "Band of Gold" and "Bring the Boys Home." Payne is dazzling in her portrayal of Ella in a toe-tapping, two-hour performance that brings the audience to its feet.
Displaying an immense range of both musical and dramatic talent, Payne tirelessly performs some 29 songs, including "It Don't Mean a Thing If It Ain't Got That Swing," "The Man I Love," "Mr. Paganini," "Sweet Georgia Brown" and "A-Tisket, A-Tasket."
"There is only one woman who could do this role and that is Freda Payne," Hines said following the Jan. 26 performance.
With a two-octave range, Payne also displays her astonishing talent for singing jazz — more specifically her ability to scat through a song in a way that all but brings Ella back to life. Her lower range resonates with a deep, rich gospel sound while her high notes are succinct, clear and spirited.
With musical direction and arrangements by William Knowles, Payne's vocals are accompanied by a five-piece band that is more than up to the task of recreating the big orchestra sound of the era.
Comprised of Doug Pierce on trumpet, Greg Holloway on drums, Yusef Chisholm on bass, Grant Langford on saxophone and William Knowles on piano, the gifted musicians also have brief double-duty stints voicing various men in Ella's life.
The talented Tom Wiggens, best known as Kirk Anderson in the daytime soap opera "As the World Turns," portrays jazz impresario Norman Granz, Ella's manager and friend for what would turn out to be a nearly 40-year collaboration between manager and artist.
The award-winning Roz White is Ella's cousin and lifelong companion Georgiana with Broadway veteran Wynonna Smith doing double duty as Frances and the young Ella. Both add their soaring vocals to lush orchestrations by Frank Owens.
Adding to the transformation of the former lumber warehouse are sets designed by Carl Gudenius, lighting by Alexander Keen and costumes by Scotty Sherman.
Under the direction of Hines, MetroStage has perfectly combined the excitement of an Ella concert with the poignant tale of survival of the orphan from Harlem who would go on to win 13 Grammy Awards and sell more than 40 million records.
As Ira Gershwin famously said, "I never knew how good our songs were until I heard Ella Fitzgerald sing them."
"Ella: First Lady of Song" is playing now through March 16 at MetroStage, 1201 N. Royal St. For tickets or more information, call 703-5489044 or visit www.metrostage.org.
Photo Gallery
'Ella' has Scatitude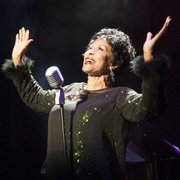 Click Photo for Flash