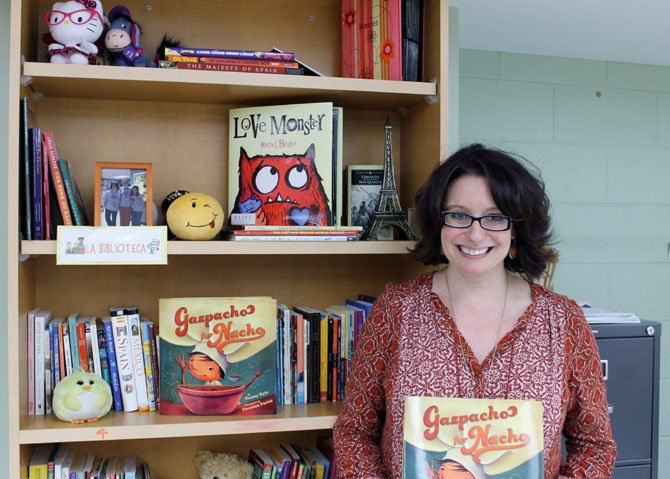 Colleagues and friends of Key Middle School Spanish teacher Tracey Kyle describe her as a creative and engaging teacher who is always thinking of new ways to teach.
Now, Kyle has taken her creativity one step further by writing "Gazpacho for Nacho." The book was published by Two Lions, a division of Amazon Publishing, in January.
"Gazpacho for Nacho" is a bilingual children's book intended to teach children about different foods and introduce them to multicultural themes.
"I'm kind of obsessed with gazpacho," said Kyle, who developed her love for the Spanish soup while living in Madrid.
The book follows Nacho, a little boy who only wants to eat gazpacho, and his mother's attempts to introduce new food. It incorporates rhyming with Spanish words, and includes a recipe for gazpacho and a glossary.
Kyle, who loves to write in her free time, has been working on the book since 2008, and is thrilled to see it finally published.
"It's been a dream of hers to write a book," said Amy Beth Marta, Kyle's supervisor and friend of 20 years.
Kyle said it was during a couple of snow days in 2010 when her husband told her she should start writing again.
"I had gotten so many rejection letters, that when I finally got a letter asking to see a revision of my story, I didn't open it for a couple of days," Kyle said.
The book is intended to encourage children to try new foods while learning about different cultures, Kyle said.
"When I was a kid, I was terribly picky," Kyle said. "I hope this book encourages children to try new foods and gets them to learn a new language."
Kyle incorporates food and culture lessons while teaching Spanish to eighth-graders, using her creativity and energy to encourage learning.
"She is the most creative teacher I've ever known," Marta said. "She has a lot of energy and students enjoy coming to class."
Sarah Looney, Kyle's co-worker who also teaches Spanish, agrees that Kyle is creative, and is always thinking of ways to teach Spanish using art projects and games.
"She is fantastic. She always comes up with creative ideas," Looney said. "I hit the jackpot working with her."
Kyle loves art, and cried the first time she saw Argentinean illustrator Carolina Farías's illustrations for "Gazpacho for Nacho."
"I cried because it was just so beautiful," Kyle said.

Kyle said it is important for children to begin learning a foreign language at a young age, which is one reason why she wrote the book.
After six years of writing and research, Kyle is happy to see the book published and has gotten several positive reviews.
"I felt really proud to have it published," she said.
Kyle is working on another Nacho story and a book incorporating Colombian artist Fernando Botero, but above all, she is focusing on teaching.
"Teaching absolutely comes first," Kyle said. "But summer is a great time to write."