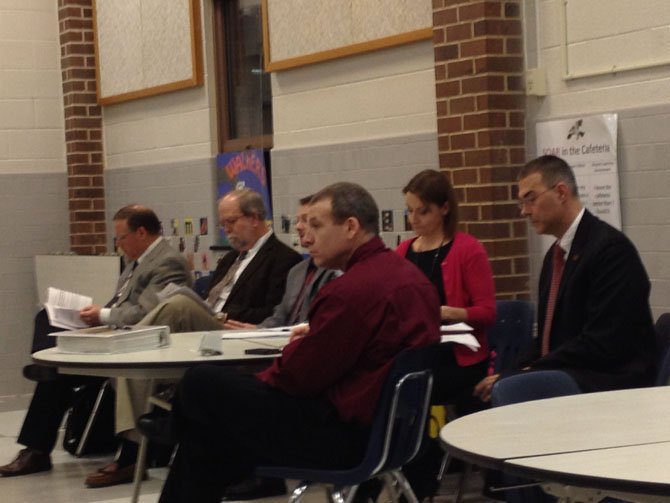 We live near the newly established Fairfax Connector Bus 432 route to the Spring Hill metro station. The bus will begin running when the Silver Line starts operating in a few months. This one-way bus route will run along residential streets in Fairfax County and the Town of Vienna. A portion of the route connects Old Courthouse Road and Beulah Road via Creek Crossing Road, East Street NE, and Church Street NE. Last May, 95% of residents of these three streets and contiguous side streets signed a petition to the County requesting a route adjustment. Among many alternatives acceptable to us, we proposed routing the bus to continue up Old Courthouse to Beulah, maintaining service for our neighbors on Old Courthouse and Beulah Road who want the bus. Our repeated requests have been denied.

We support public transportation, but we are against the portion of a route that uses our neighborhood as a bypass and, probably, a free parking lot since parking was not constructed at the Tysons stations. Our community doesn't need this bus because, being close to Maple Avenue, we already have bus access on MetroBus 2T or could walk to the metro station faster than the 40-minute ride on Bus 432 will deliver us. This bus is built to carry about 45 people per trip and if it runs by empty, other people that want and need the bus are losing out.
For two years our community has voiced opposition to this part of the route, and we documented it by submitting a petition signed by 450 people who live here. Superficial route analysis and highly subjective rationale form the basis for discarding other options. Generalizations like "we prefer that buses not turn left" or "that's not ideal" are tossed our way while officials fail to show us, in any objective way, why we are getting this bus. At every turn, we hear from FCDOT that no compromise is possible because other communities' views are too important to ignore. Wait a minute! Don't the 450 people in our community matter? We formally signed the petition requesting a route change, but have been dismissed by County staff and elected officials. Why do FCDOT and Hunter Mill Supervisor Cathy Hudgins insist on putting this bus on our streets when other options are available?
Furthermore, the costs of this route, compared to alternatives, are prohibitive and cannot be disregarded. FCDOT's projected ridership of 12 people per trip, or 120 per day, would contribute about $37,000 per year in revenue on costs of $170,000, which doesn't include the $2 million cost of bringing this part of the route into minimal compliance with ADA regulations. Another route considered, but discarded, would draw 312 people per day according to FCDOT. Fairfax County taxpayers deserve respect, and throwing away money to cram a money-pit bus on residential streets in the face of very strong community opposition is very hard to understand. Obviously, this bus route is a drain on resources. It almost sounds as if FCDOT is rewarded for miles traveled by near-empty buses rather than reprimanded for selecting suboptimal bus routes that lose lots of money.
Our Supervisors must remember that they were elected to represent our interests, not those of the Tysons developers. This bus doesn't make sense for us and we are on record that we won't use it. Something has gone wrong in this process and it's time for our elected officials to stick up for us. Putting it bluntly, we are being used and abused, as planners eye our street as a source of free parking places and a cut-through for excess traffic. Supervisor Hudgins has promised us a Work Session in March with FCDOT to further try to provide explanation for this choice and we sincerely hope to receive real facts and numbers that support this routing.

Supervisor Hudgins has characterized our community as having "difficulty adapting to change," summarizing our issues as concern that "buses are not safe." Rest assured, in this society we are well accustomed to change. We are not against buses and bus service in general, and believe that FCDOT bus drivers are adequately trained. We oppose a controversial, uni-directional bus route with highly questionable economic value. As taxpayers, we need to hold Fairfax County accountable for failure to make responsible, fully-informed funding decisions that benefit the diverse needs of our county in a time of limited resources and serious financial challenges.

Lynn G. Quinn, Vienna
Treasurer, Creek Crossing Civic Association
Beverly Jurenko, Vienna
President, Creek Crossing Civic Association