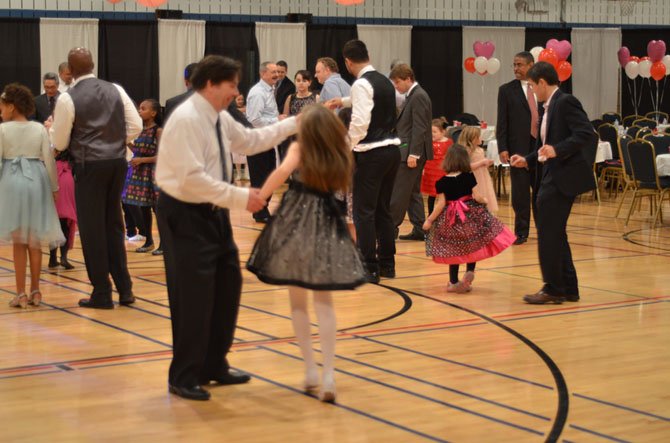 The evening of Saturday, Feb. 1, Herndon Community Center was host to the 6th annual Father Daughter Dance at the gymnasium room. Operating the DJ table was Aaron Hahn, owner of Basement Media Productions. The focus of the event was dance to popular music. Songs ranging from "Cotton Eyed Joe" to "Gangnam Style" were broadcast during the night. Appetizers and drinks were also served.
Fathers (uncles, grandfathers and other father-figures) were invited to escort the young ladies to the semi-formal dance at Herndon Community Center. Deputy Director at Town of Herndon Parks and Recreation Department and organizer of the event, Ann Marie E. Heiser, was also attending the event.
"I have been to every one of the annual Father Daughter dances," said Dan French, a resident of Herndon who brought his two daughters to attend the event. "The girls have a great time, they get to see their friends and it is good to see the dads and meet them. Ann Marie and the staff go a great good in getting this event together," said French.
"This is our fourth year attending this event," said Herndon resident Nassir Ahmad who was attending with his daughter. "It was a great time to bond with your daughter," said Ed Whiting, a resident of Herndon who also attended last year's dance at the community center. "We had a great time," said Charles Shea. "It is great to meet other parents and kids in this town."