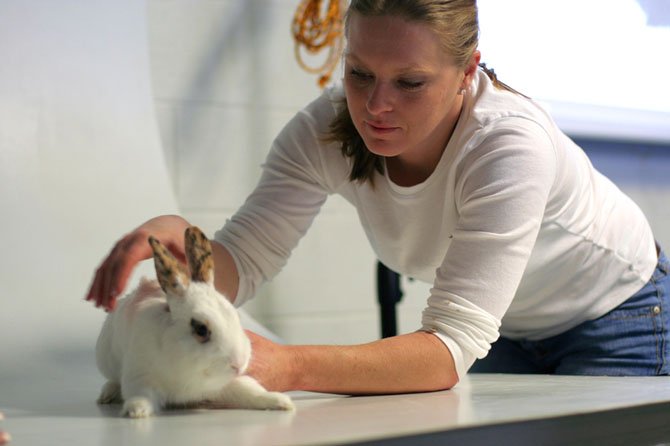 Animals at the Fairfax County Animal Shelter were given the celebrity treatment on Feb. 23 when a team from the non-profit Shelter Art Foundation taught shelter staff and volunteers how to use Hollywood-style portrait techniques to photograph their adoptable animals.
"We believe that every animal is a celebrity. We want to give them the same exposure that we would give a budding star in Hollywood. We do this because it works. Great portraits get actors and actresses noticed and leading roles. We want these animals to get leading roles in new homes," said Shelter Art Foundation founder Steve Sloop after the Sunday workshop.
"We have conducted photo team workshops at 19 shelters in eight states, enabling these shelters to build the skills necessary to show off their stars. All of the shelters we have worked with have said that the better images make a difference," said Sloop.
"When I was a kid if you wanted an animal, you went to the shelter. And now, if you want an animal you go online. If the online image isn't beautiful and inviting and something you would want to have at your house, you'll keep clicking until you find it. But when you have that animal that looks at you and grabs your heart, you'll go into the shelter. That may not be the one that you come home with, but we've got you into the shelter so you can find the one you connect with," said Sloop of the concept that drove him to create the Shelter Art Foundation.
IN THE PAST YEAR, under the leadership of Tawny Hammond, the Fairfax County Animal Shelter has implemented a multi-faceted social media campaign to engage with the community in new ways and to increase adoptions. "A strong photography program coupled with a strategic social media program is paramount to success. With training and attention, we all can do it."
When the Shelter Art Foundation contacted Hammond about hosting a workshop, she said, "How soon can we do it?" Not only did volunteers from the Fairfax County Animal Shelter participate, but representatives from humane societies in the District of Columbia and Montgomery County, Maryland were also present.
The non-profit Shelter Art Foundation was founded in 2010 when Sloop realized that he and his volunteer photo team at the Monterey SPCA had figured out an easy to learn, low cost technique that combined advanced animal wrangling strategies with a basic studio photography setup. He founded the non-profit and started traveling to shelters around the country.
"At first, I'd visit a shelter whenever I was traveling to see family or friends," says Sloop. In late 2013 he was contacted by Purina to see if support from them would enable the Foundation to expand their program. Once they conduct the workshop, they are able to provide the shelters they visit with the equipment needed to set up the shelter studio at no cost.
THERE ARE CURRENTLY 25 shelters in California, two in Nevada, one in Alabama, one in Louisiana, one in Missouri and one in Virginia scheduled for this spring.
"Our goal is to empower as many shelters and rescue organizations as possible with the training and equipment they need to improve their images," says Sloop. For more information about the organization, go to their website at www.ShelterArtFoundation.org.