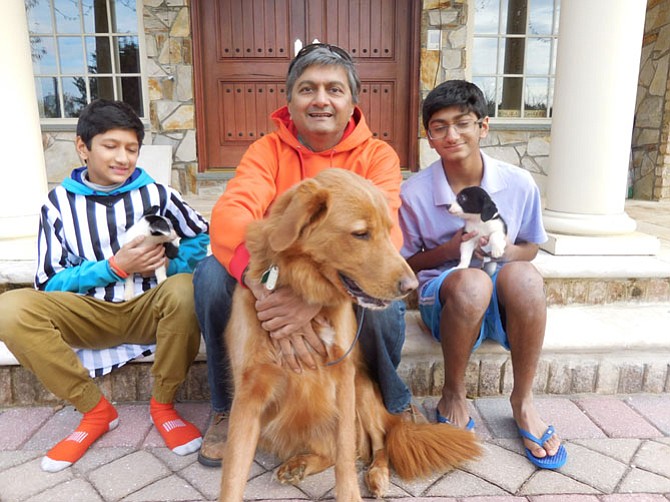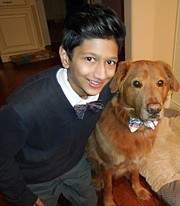 Dear Animal Lovers,
Like most kids, I always wanted a puppy to hug, play with, and love. My parents promised me my first pet when I turned 10, old enough to help take care of our puppy. My parents kept their promise, and on my 10th birthday we adopted "Clue" from the Washington Animal Rescue League (WARL), in D.C. I wrote a book on him that you can check out for free through our Fairfax County Public Library - "Get a Clue: A True Story about a Boy's Best Birthday Present."
We also adopted Sparky, a Golden Retriever-Chow mix. We celebrated Sparky's fourth birthday on Feb. 5.
Rescue shelters like WARL do an amazing job helping and saving puppies and animals from hoarding facilities or puppy surrenders from owners who cannot take care of new litters.
A really wonderful rescue shelter we help is Homeward Trails Animal Rescue (HTAR) in Fairfax Station. We foster puppies, who cannot live at the shelter, because they are too young and need a family to love them until they are adopted.
We also volunteer at the shelter, to help clean the dogs' crates, mop the floors and fold laundry. Please consider volunteering at any of these shelters or maybe donate some of your allowance to help these adorable, helpless animals, so they can have a better life. You can volunteer an hour, a weekend, a couple of weeks, or a month, whatever fits your schedule and is convenient for you. Meet some of the most amazing volunteers. Helping these sweet animals will make you feel so good - I know I do.

Some shelters you can visit and volunteer at:
Washington Animal Rescue League, 71 Oglethorpe St NW, Washington, D.C., 202-726-2556, www.warl.org
Homeward Trails Animal Rescue, 11116 Fairfax Station Rd, Fairfax Station, 703-249-5066, www.homewardtrails.org
Fairfax County Animal Shelter, 4500 West Ox Rd, Fairfax, 703-830-1100, www.fairfaxcounty.gov/animalshelter/foster.htm
Woof-woof!
Sachin Muralidhar
Great Falls
Eighth-grader at Cooper Middle School