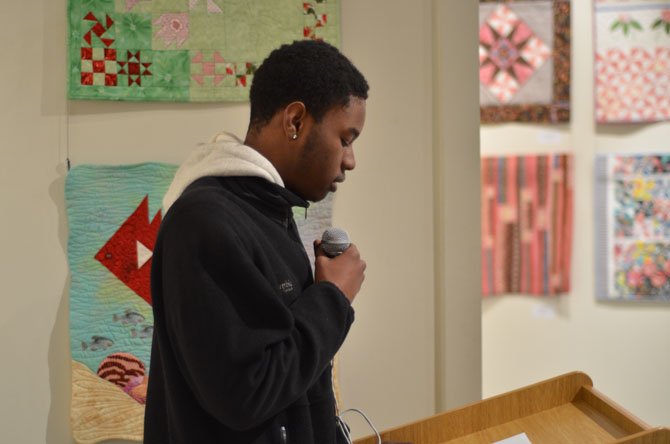 "It is our distinct pleasure today to host a Black History Month event," said Lawrence Verbiest, executive director of ArtSpace Herndon introducing the coordinator for the event, Elise Abby Arrington. For four years now Arrington has helped arrange an event to commemorate Black History month. Last year, Arrington helped coordinate a reading of the Emancipation Proclamation with other local high school students at ArtSpace Herndon.
"Soul food is a term used for an ethnic cuisine or food traditionally prepared and eaten by African Americans of the southern United States," said Malik Piersol. A senior of Westfield High School, Piersol was one of several high school students who read an informative history on African American cuisine. The students spoke for about 45 minutes and then everyone was welcomed to sample some of the cuisine.
Jacquelyn Dresser, head of the family and consumer science department and a teacher at Herndon High, prepared several "soul food" dishes brought to ArtSpace Herndon. These dishes included potato salad, collard greens, cornbread, sweet potato pie, and chicken wings. Dresser welcomed the opportunity to collaborate with Arrington on this project. "I am always interested involving my students in local activities," said Dresser. "Next year we are hoping we can continue the tradition, there is so much more we can do with it."
To learn more about the ArtSpace Herndon, visit www.artspaceherndon.com.