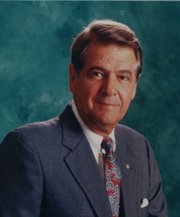 Allan R. Plumley, Jr. died on Dec. 26, 2013 at Virginia Hospital Center, in Arlington, due to complications following a fall. He was 80 years old. A fourth generation lawyer, Mr. Plumley was born in Washington, D.C. on Jan. 14, 1933, and raised in Wilmington, Del., where his father, a patent attorney, was an executive with DuPont. Mr. Plumley was graduated from Wilmington Friends School and attended the University of Virginia, George Washington University, and the George Washington University Law School, earning A.B., B.S., and Juris Doctor degrees. He served for two years (1956-1958) in the U.S. Army Counter Intelligence Corps.
He completed the three-year course of study at GWU Law School in one and one-half years, and in 1961 became law clerk to the late David A. Pine, Chief Judge of the U.S. District Court for the District of Columbia. He joined the Arlington law firm of Adams, Porter, Radigan and Mays, becoming a full partner in 1965.
In 1975, he was elected president and CEO of First Federal Savings and Loan Association of Arlington, which became the publicly traded CFS Financial Corporation and its wholly-owned subsidiary, Continental Federal Savings Bank. When CFS was sold to Crestar Bank in 1992, Mr. Plumley became vice chairman of the Greater Washington Area for Crestar. He retired from Crestar in 1995. Mr. Plumley also served as chairman of the Virginia League of Savings Institutions.
In 2000, he became founding chairman of the board of First Service Bank in McLean. When the bank was sold in 2006 to Southern National Bank of Virginia, Mr. Plumley became a member of its Advisory Board. In addition to serving as president of Washington Golf & Country Club, he was president, trustee and director of many corporate, charitable and social organizations.
In a eulogy
Mr. Plumley had resided in Arlington since 1958. He is the sole surviving son of the late Elizabeth Sutherland Frost Plumley of La Grange, Georgia and Washington, D.C. and the late Allan R. Plumley, Sr. of Northfield, Vt. He is survived by his wife of 56 years, Marie Chapin Plumley; three children, Allan R. Plumley III of Fairfax, Carolyn Stombock (D. Michael, Sr.) of South Riding, and Christopher W. Plumley (Elizabeth) of Fairfax; and six grandchildren, Allison B. Plumley, William W. Plumley, D. Michael Stombock, Jr., Christopher W. Stombock, Matthew R. Stombock, and Reese M. Plumley.
Visitation was held at Murphy's Funeral Home, 4510 Wilson Blvd., Arlington, on Jan. 2. A funeral service was held at St. Mary's Episcopal Church, 2609 N. Glebe Road, Arlington on Jan. 3 where his son, Allan R. Plumley, Jr., gave his eulogy, ending with: "Dad, now that you aren't with us any longer, you have left an awful hole. But that is actually a positive thing, for it signifies that you have accomplished so much, influenced so many, and been truly and deeply respected, admired, loved, adored and cherished. We are going to miss you, and it is painful, but as you knew, we will be fine. And we will live in such a way as to make you proud of us. We will honor you. Yours was a life well lived, Dad."
Donations may be made to Capital Caring, 2900 Telestar Ct., Falls Church, VA 22042.