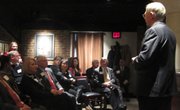 "We're going to have a lot of work ahead of us and we're going to be reaching out to the community so that the budget can reflect what community members' priorities are."
— Supervisor John Foust (D-Dranesville)
The Greater McLean Chamber of Commerce met Thursday, Jan. 9, for a breakfast sponsored by Middleburg Bank at J. Gilbert's in McLean to discuss the major issues facing the town in 2014. Supervisor John Foust (D-Dranesville) addressed the chamber's board of directors and spoke about a variety of issues, including the county budget for Fiscal Year 2015, the ongoing transformation of Tyson's Corner and potential projects for local parks in McLean.
One of the topics on Foust's agenda was funding for schools. The Board of Supervisors transfers about 53 percent of the county's general fund budget to Fairfax County Public Schools, and increased its yearly School Bond capital program to $155 million in fiscal year 2014. However, schools will likely need about $140 million more this year for that bond program for improving school infrastructures alone.
"The schools have demonstrated, in my opinion, that they need that money just to keep up with growth and get rid of the trailers and renovate the schools that are 50 years old or older," said Foust.
REGARDING THE SILVER LINE, Foust explained several new transportation options to come with the opening of the McLean Metro Station, still scheduled to open in March or April this year. In addition to a 711-space commuter parking lot, approved by the Board of Supervisors in July 2013 to serve as a 10-year "bridge solution" to full parking availability, property owners in Tysons Corner are exploring ways they can provide additional parking from partially-used garages around the station.
Foust also noted that three new bus lines will open the same day the McLean Metro Station begins running. The buses will circulate every 30 minutes during rush hour to residential areas on nearby Fleetwood Road, Elm Street and Beverly Road.
Foust also pointed to major park projects in the year ahead, including Spring Hill Recreation Center, McLean Central Park and a land swap with the National Park Service for Langley Fork Park as big steps for the town in 2014. Spring Hill Recreation Center will be receiving an additional $25 million to build a brand new 12,500 square-foot gymnasium, as well as a two-story, 15,000 square-foot fitness center, and construction could begin as soon as winter of 2014.
For McLean Central Park, Foust said that the board has received a proposition to build a new amphitheater, though it has not appropriated money for the project yet. "It's tough to find places in McLean where you can say, 'this is where the community gathers,' and I think we need that to be a real community," said Foust.
THE COUNTY is still discussing a land swap for 54 acres owned by the National Park Service at Langley Fork Park. The swap would be for other land in McLean not being used by the town currently for park space.
Raj Mehra, who serves on the Chamber's Board of Directors and is also Chief Financial Officer of Middleburg Bank in McLean, said that Supervisor Foust has been very accessible for McLean business leaders and the Chamber. "I can say personally as a McLean resident that Supervisor Foust is very accessible," said Mehra.
The Fiscal Year 2015 Advertised Budget for Fairfax County will be released on Feb. 25 and go to the Board of Supervisors for review, after which there will be two months to factor in public opinion on what to change before officially approving it in April.
"We're going to have a lot of work ahead of us and we're going to be reaching out to the community so that the budget can reflect what community members' priorities are," said Foust.