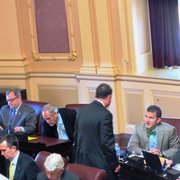 What Petersen's Ethics Package Would Do
SB212: FOIA for General Assembly members and staff - SB212 removes the General Assembly's exception from the Virginia FOIA act. This bill repeals the 2013 General Assembly FOIA exemption act (HB1639), patroned by Del. Tag Greason (R-Potomac Falls).
SB218: Limits on Campaign Contributions and Gifts - SB218 Limits General Assembly members and Executives in the Commonwealth to a total of $2,000 in gifts per year. All gifts over $50 will continue to be itemized and reported. "Super-sized" campaign donations will be limited to $20,000 per individual donor per candidate.

SB220: Prohibiting the Use of Private Law Firms for State Business -SB220 requires the office of the Attorney General to contract local city or county attorneys, rather than private counsel, when it experiences a conflict of interest. This bill will remove the incentive for private law firms to exploit the current law and over-bill the state on a public matter. This bill was brought about due to the ongoing attorney's fees charged by two firms employed by Attorney Gen. Ken Cuccinelli's office to defend Gov. Bob McDonnell, reportedly more than $780,000.

SB219: Establishment of the Virginia Ethics Commission -SB219 requires that all loans, gifts, and statements of economic interests disclosures shall be filed with the Virginia Ethics Commission. Currently these disclosures are filed to the clerks of each house. The Virginia Ethics Commission will be a body independent of both houses, comprised of both former legislators and distinguished independent citizens whom have never held office. The commission will be able to make recommendations for disciplinary proceedings against legislators found in violation of disclosure laws to their respective house, where members will vote on any disciplinary action.
For more information on these bills, go to:
SB220 (Petersen)
HB1639: (Greason, 2013)
SB218 (Petersen)
SB219 (Petersen)
As members of the Virginia General Assembly convene for the first time since last February, legislators are stampeding to introduce ethics legislation in response to the gift scandal which engulfed then Gov. Robert F. McDonnell (R).
The revelations last spring about numerous undisclosed gifts and purported loans from businessman Jonnie Williams to McDonnell — including a $6,500 Rolex watch engraved to the "71st Governor of Virginia" and $35,000 in gifts and catering for his daughters' weddings — shined a spotlight on Virginia's porous financial disclosure laws.
McDonnell, who remains under federal investigation over his relationship with Williams, pointed to various loopholes in existing state law as reasons for not disclosing gifts, noting that state law requires only the disclosure of gifts directly to officeholders, and not their families.
Following the principle cited by Supreme Court Justice Louis Brandeis that "Sunlight is said to be the best of disinfectants," state Sen. Chap Petersen (D-Fairfax) has introduced an ethics reform package which he says "makes the Freedom of Information Act (FOIA) a centerpiece."
PETERSEN'S BILLS would increase disclosure, limit contributions and gifts, prohibit the use of private law firms for state business, and create an ethics commission, ideally with subpoena power, to hold legislators accountable and increase transparency.
"The era of Rolexes, lake-house vacations, and $150,000 loans must end," Petersen said. "For far too long those of us who serve in Richmond have relied on super-sized political contributions to fund our campaigns. That is a part of our current flawed culture. Working Virginians don't see campaign donations larger than their yearly incomes as 'no strings attached.' They see a transaction."
Petersen's package of ethical reform bills takes its place alongside several others announced last week, including a bipartisan reform package unveiled Tuesday, Jan. 7, by House Majority Leader M. Kirkland Cox (R-Colonial Heights) and House Minority Leader David J. Toscano (D-Charlottesville).
Under the Kirkland-Toscano bill, reforms include:
A $250 cap on tangible gifts to officials and their immediate family members from lobbyists or people with business before the state.
A ban on solicitation of those gifts.
The requirement that family members' finances and gifts be disclosed.
The creation of an ethics commission that would serve as a resource, providing legislators guidance on issues that may pose a conflict of interest.
"What we have really tried to do here is take the best parts of our current system, which is fairly strict reporting accountability, and in targeted areas, we've really tried to beef that up and really get at some of the problems," Cox said at a news conference in Richmond last week with Republican and Democratic leaders.
Petersen said his proposals differed significantly from the House bill.
"I'm not overly impressed by the 'bipartisan compromise' announced in the House this week. My package has teeth. My intention is to change the culture, not just close the loopholes," Petersen said in an interview on Wednesday, Jan. 8.
"The other issue that's part of my proposal is making FOIA the centerpiece," Petersen said. "I think my FOIA bill is critical for bringing more transparency to this process. That's a huge difference, because without that it's really hard to know what's going on and it's for people and the media to investigate. "
Petersen said he wants his ethics commission to have subpoena power, which would give the group the authority to compel lawmakers to testify and produce evidence, or face a penalty for failure to comply.
According to the National Conference of State Legislatures, more than 40 states have similar ethics commissions, most with subpoena power.
Petersen said he has long been bothered by the lack of financial transparency in Virginia, and the ensuing erosion of the public's trust.
WHEN REPORTS ABOUT THE ROLEX surfaced last July, Petersen sent a letter to the governor asking him to "come clean on this matter" by explaining the gifts, denying the reports, or resigning from office. He became the first Virginia lawmaker to suggest McDonnell's resignation in the wake of the deepening controversy over the lavish gifts.
"For too long, we've said 'hey, we're honorable gentleman, we can police ourselves,' Unfortunately, there have been too many recent incidents to contradict that," Petersen said.
"That's why I've introduced four bills that will increase the public's right to know, limit campaign contributions to $20K per candidate from a single donor, end the soaking of taxpayers by white-shoe law firms, and start a truly independent and distinguished ethics commission that includes everyday citizens to hold legislators accountable."
But Del. Dave Albo (R-42) said he wasn't overly impressed with Petersen's bills, and he supports the bipartisan compromise.
"The bipartisan House proposal includes an ethics commission, so I don't know why Senator Peterson thinks that his ethics commission is better," Albo said Friday, adding that it's unrealistic for state lawmakers to impose certain campaign contribution limits.

"If a bill could be crafted that would equally limit [all campaign contributions], then I would support it. But it has to be a level playing field," Albo said.
"It takes a long time to start earning back the trust that you have lost, and as Virginians, and as public officials, we need to start now," Petersen said.