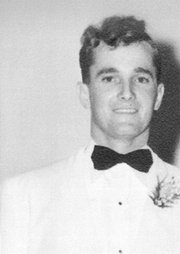 Thomas Y. Johnson, 88, of Alexandria, died on Jan. 13, 2014 at Woodbine Nursing and Rehabilitation Center. Mr. Johnson is preceded in death by his siblings; Reba Evans, Susie Blue, Estelle "Tillie" Butler, Morris "Brother" Johnson, and Matthew "Neil" Johnson. He is survived by his wife of 64 years, Dorothy "Wanda" Johnson; his son, Thomas Y. "Jay" Johnson, Jr.; and 9 nieces and nephews.
Mr. Johnson was a former volunteer at Alexandria Volunteer Fire Department, a member of the Potomac Truck and Engine Company #2, and a member of the Odd Fellows Lodge #38.
The family will receive friends from 2 to 4 p.m., and 6 p.m. to 8 p.m. Friday, Jan. 17, at Cunningham Turch Funeral Home, 811 Cameron St. Alexandria. A Life Celebration Service will be held at the funeral home on Saturday, Jan. 18, at 10:30 a.m., followed by interment at Ivy Hill Cemetery, Alexandria.