Stephen Ryan insisted on Landini Brothers on King Street to discuss his new book "The Madonna Files." Starbucks seemed fine, but the author reiterated how important the Old Town restaurant was: "My book opens up at that restaurant and five years ago I promised myself I would someday sit down in that place as a published author — and today is that day."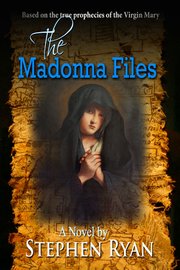 The city of Alexandria has a strong hold on the newly minted author's soul. But like most people who grow up in the same town it was not always that way.
"I had lived in Alexandria pretty much my entire life — MacArthur Elementary School, Bishop Ireton High School and so by the time I finished college at George Washington University I was ready get away, explore the world." Right after college, Ryan found a ride across the Atlantic on a 40-foot sailboat. He traveled from Annapolis to Bermuda, then to the Azores and on to Portugal. The adventure rekindled his interest in writing.
While pursuing a bachelor's degree in economics at George Washington University and living in Alexandria, Ryan thought writing might be his true calling. He worked hard to write a short story for an English class and was shocked when his teacher read it aloud: "I met with her afterward and she said, 'Steve, your voice is unique and appealing — you ought to think about doing more of this.'" As an economics major, he was focused on making money, not writing. "Looking back, I should have asked her more about why she liked it, but I never believed it would lead to anything" Ryan said.
Although Ryan may not have been focused on a potential writing career as he set sail for Europe, he was determined to explore the world of Ernest Hemingway, one of his favorite literary heroes. "I wanted to be like Hemingway," he said. "I bought a motorcycle in Europe. I went to bull fights and drank with the locals."
Ryan, however, encountered some troubles along the way. One day he looked in his wallet and saw $10 and a one-way plane ticket back to Alexandria. So Ryan reluctantly put down his backpack and picked up a brief case upon returning to Old Town. Marriage arrived followed by children and a career as a financial advisor. When the stock market crashed in 2008, Ryan reconsidered his life path. "What have I done with my life?" he asked himself. To fill the void, Ryan launched a faith-based blog, which quickly received encouragement from other writers. "I started out like every other blogger, and when more people started coming to the site, I began to write more. As I began entering deeper discussions on the website, the idea of a book came into focus."
And the adventure streak never fully went away.
Sailing had always been a part of Ryan's life, his father had owned sailboats for years, and so when his brother Paul invited him to race to Newport, R.I., from Annapolis he quickly agreed to go. Ryan has competed in more than 10 ocean races and well as dozens of other sailboat races, yet the idea of writing a novel remained quietly in the back of his mind. "It wasn't until the strange world of visions of the Virgin Mary collided with my sailing pursuits did the idea for the book come fully into focus," he said.
Ryan discovered fascinating little known facts about the Virgin Mary that inspired him to write his book. For example, few people know that Ernest Hemingway gave away his Nobel Prize medallion to a shrine of the Virgin Mary in Cuba. Moreover, even fewer people are aware that Mark Twain spent 12 years writing a book about the visions of Joan of Arc. Then there exists the mysterious world of Marian apparitions. "I looked into Fatima and the miracle of the sun, and became very interested in the baffling world of Marian apparitions," Ryan said.
It started as an interest of his, but then it started to take a hold of him. He combined his interest in supernatural mysteries of the Catholic Church with his love for sailing and travel. Thus Ryan fulfilled his long-dormant desire by penning a contemporary religious thriller that reads "like a cross between Indiana Jones and a Dan Brown mystery."
"The Madonna Files" is, for the most part, set in the near future, but the story begins with a mysterious event that takes place in Rwanda just as the genocide begins to rip that country apart. From there, the story moves to the cobbled stoned streets of Alexandria where Father Daniel Baronowski finds himself in a deadly race to locate a letter stolen from the Pope's apartment. The letter contains an apocalyptic message. From Rome to Washington D.C., from Alexandria, to Annapolis, to grand cathedrals and secret hideouts, Father Dan must find the letter with the secret message before enemies of the Church find it first.
Ryan's debut novel, published by Whiskey Creek Press, challenges the prevailing orthodoxies of American history and Christianity, and the presence of the Virgin Mary throughout the ages.
Ryan is a member of the International Thriller Writers and now lives in Hollin Hills in Fairfax County with his wife Tania and their two children.