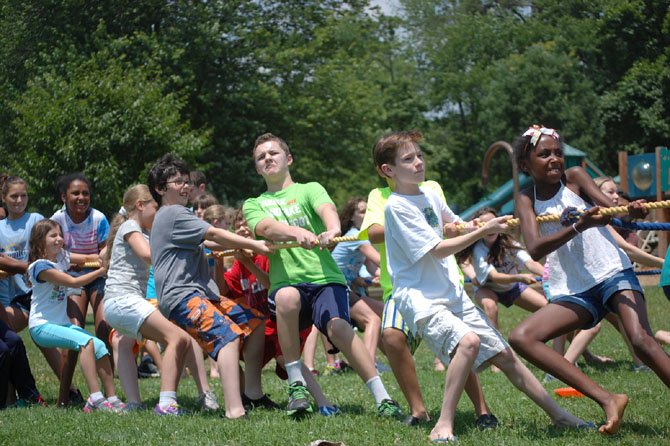 The frigid January temperatures can make summer feel like a distant fantasy of sunscreen and popsicles, but it's actually not that far away. If you have children who want to attend camp after the current school year ends, now is the time to start planning, said experts. In fact, registration for many camps begins this month.
"Spaces fill quickly so we encourage parents to register as soon as possible," said Kevin Rechen, director of the Summer at Norwood School camp in Potomac. "Popular classes and programs always fill early." Rechen added that many camps, including Norwood, offer discounts for early registration.
However, choosing the right camp is not always easy with the Washington, D.C., area's many choices, which run the gamut from traditional day camps to specialty camps, sports camps and academic programs. Your child could even attend a camp about Ernest Hemingway.
Linda Stratton of St. Stephen's & St. Agnes School in Alexandria, said the list of the school's summer offerings is growing. "We have some exciting new specialty camps [at SummerTimes], including Hemingway: The Importance of Being Earnest camp, Chesapeake Journey camp, an overnight camp [and] Yoga and Nutrition."
With so many options, it can be hard to choose. Linda Gulyn, Ph.D., a professor of psychology at Marymount University in Arlington, suggested asking, "'Is there a variety of activities, opportunities for movement, structured games, arts and crafts?' There needs to be time for socializing, play and rest, and I would avoid camps that are 100-percent outdoors during the summer because of the heat."
Gulyn suggested parents make sure the camp is a good fit socially. "The opportunity to be with other kids of the same age is especially important in elementary school," she said. "A 7-year-old wants to be with other 7-year-olds, particularly of the same gender. They learn from each other, even informal things like speech habits. They learn what's cool. That's very important developmentally. Not to mention that they are developmentally similar and their motor skills, body size, balance [and] coordination tend to be similar."
In fact, you probably want to stay local to help establish long-term friendships. "Summer camp is a time for children to build friendships and for parents to establish relationships with other parents through things like carpooling," said Gulyn. "If you're going to Civil War camp in Alexandria and you live in Arlington, you probably won't be carpooling or keeping in touch with those people. In my opinion, you should stay as local as possible."
Bethesda-based psychologist Lauren Rubenstein, Psy.D., says that parents should also try to learn about the environment of the camps they are considering. "Try and figure out what the culture of the campus is," she said. "Are they focused on celebrating the individual child, creating a positive camp culture and helping kids develop their individual voices?"
In fact, Rubenstein suggested that parents think about summer 2015 and spend time observing different camps' environments. "It is great to do camp visits one summer, thinking about the next summer," said Rubenstein. "You can read all the brochures and look on the website, but the best way to know what is right for your child and your family is to spend a day there and see what goes on."
Gulyn said parents should ask how camp staff members resolve inevitable conflicts among campers. "How do they manage behavior problems like bullying? Social conflict issues like teasing and exclusion are common and normal at this age, but how does the camp manage it and are you comfortable with their approach?
You also need to know the staff-to-child ratio because safety is important."
OF COURSE, COST is also important. "I say parents should stay within their own budgets," said Gulyn. "There are a lot of camps that sound perfect for a child and the child gets there and after three days the child doesn't want to go. A pricey camp isn't always the most appropriate."
Rubenstein said, "Speaking as a parent, I don't think there is any correlation between the cost of the camp and the quality of the camp experience."
If you do fall in love with an expensive camp, however, there are often financial options. "Camps will have scholarships for those in need or a sliding scale for more than one camper in the household, so looking for those shouldn't be difficult to find," said Brenda P. Wiggins, Ph.D., an associate professor of parks, recreation and leisure studies at George Mason University's School of Recreation, Health and Tourism in Fairfax.
If your child is unique or has special needs, experts said not to fear, there are still many options. "Camps should offer opportunities to work with any camper, no matter what their physical, emotional or intellectual challenge might be," said Wiggins. "If a parent inquires and can't see that her or his camper will find themselves in a camp that can modify their activities to meet those challenges, then my suggestion would be to inquire with Fairfax County Neighborhood and Community Services' Therapeutic Recreation Section [and comparable offices for other counties] to find camps for individuals with disabilities," she said.
The right camp, experts said, is out there, and will provide experiences children will treasure for years. "Good camps provide an experience that children will look back on fondly in 10 years," said Rechen. "This is accomplished through nurturing staff, the best facilities and activities and, above all, an encompassing sense of community."