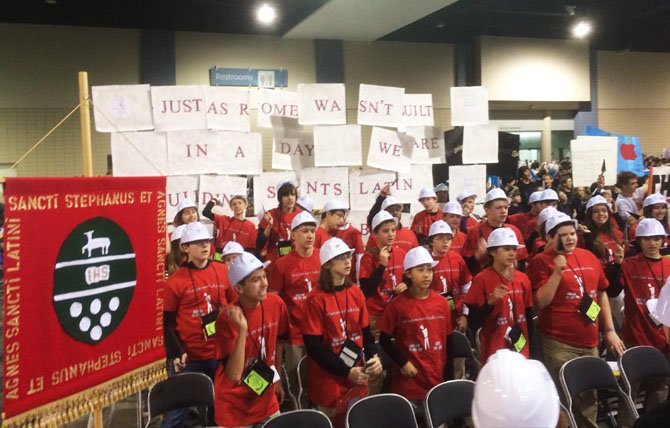 A group of St. Stephen's & St. Agnes School classics students took home more than 100 awards at the annual Virginia Junior Classical League state convention, held in Richmond in November.
During the convention, junior Daniel Marshall was elected VJCL vice president, becoming the third state officer in a row from SSSAS.
With the third-largest delegation in attendance, consisting of 52 Middle and Upper School students, Saints Latin won first place in Spirit (fourth consecutive win) in the Grand Delegation category during the convention. The Saints also placed third in the VJCL Publicity Contest and received recognition for the "best print media article" for an Examiner newspaper article last year.
SSSAS students excelled in various individual competitions during the convention. Some highlights include:
Latin 4 student junior Will Siegmund earned best in show on both Roman History and Latin Literature, and he placed first in Roman Life. Latin 3 student sophomore Ann Bailey earned second place in Derivatives, Grammar, and Vocabulary. Latin 1 student junior Sylvie Howton placed second in Pentathlon, and she and classmate freshman Sean Dowling placed first and second in Derivatives, respectively. Latin 2 student freshman Malcolm Reynolds also placed second in Derivatives. Freshman Nathan Pugh placed first in the state for his modern myth. Many other students received third- through tenth-place finishes on tests.
SSSAS students also did well in graphic arts. Eighth grade Latin 1 student Tindall A. received first place for her greeting card, as did Latin 2 student freshman Sammy Daley for her amazing duct tape rendition of Julius Caesar, which will be featured on the wall of the Latin classroom in the Upper School. Sammy also earned first place in Impromptu Art.
In addition, SSSAS won the first annual Street Certamen (a quiz bowl-type competition) and received a quiz "buzzer" system as a prize. Fifteen students and teachers played in the certamen, and SSSAS Latin Teacher Ian Hochberg moderated.