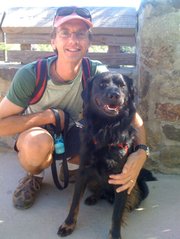 Alexandria woodworker Benjamin Leatham will be among the more than 250 jury selected artists showcasing their works at the Sugarloaf Crafts Festival from Jan. 24-26 at Dulles Expo Center in Chantilly.
"I've been doing it [Sugarloaf Festival] for a couple of years. And I was always impressed by the artists. I was very excited about it. It's a great show," he said.
The theme of Leatham's booth is handcrafted gourmet kitchen tools such as crepe tool sets, serving spoons and French rolling pens.
Although he has several specialties, he primarily focuses on creating "utensils, sculptural cutting boards and salad bowls."
"I grew up on a farm in western Maryland and I've been in love with food all of my life. I've worked in Hyatt restaurants for about 15 years," he said.
Leatham believes his knowledge of cooking and kitchen tools gives his creations one edge over his competitors: functionality and durability.
One project he is particularly proud of is renovating his small spatula after three generations of use.
"A lot of people when they make a spatula the thing they neglect most is that front edge. I've always had that sharp edge but now visually and ergonomically it's beautiful. It's really in its final evolution," he said.
Most of his inspiration for his works comes from nature.
In designing his cutting boards, he focuses on the grain and flow of the wood in connection to the board's shape.
"I'm not particularly a fan of straight lines or square edges, a lot of my stuff is biomorphic. It's very sculptural and flowing. It's very ergonomic so that the handle fits the palm of your hand whether your right handed or left handed," Leatham said.
Another aspect of Leatham's cookware is that he only uses "exotic domestic woods" such as maple, cherry and walnut.
Moreover, he uses sustainable or recyclable trees that have been cut down due to the weather or by power line companies for all of his bowl collections.
"… one of the things that sets my products apart is the high durability and low upkeep required by the customer is very little compared to what they would get from other products," he said.
Leatham grew up in the woodworking industry. Watching his father, who was a custom homes builder, first sparked his interest in the industry.
He continued to hone his wood working skills on the side after he enlisted in the Navy. Once he resettled in the Maryland/Northern Virginia area he worked with an architectural mill work company for six years which he credits for helping him advance his wood working skills.
Outside of his main hobby of woodworking, he loves fishing and being out in nature.
He has a BA in biology and a minor in education.
The Sugarloaf Crafts Festival, formerly Sugarloaf Mountain Works, was founded by Deann and George Verdier in 1975. It was created with the mission of providing a "low-overhead marketplace where artists and craftspeople could sell their unique creations direct to craftlovers." In 1976, the first Sugarloaf Crafts Festival was held in Gaithersburg, Md. with 200 artisans.
This year's festival will be held over three days (Friday, Jan. 24 and Saturday, Jan. 25 from 10 a.m. to 6 p.m.; and Sunday, Jan. 26 from 10 a.m. to 5 p.m.).
Adult admission is $8 online and $10 at the door, and free for children under 12. Admission is good for all three days of the festival. Free parking is available on site.
Unlike other craft shows, shoppers can speak directly to the actual artists instead of salespeople. And they can also watch live demonstrations where they can see the creations evolve from ideas to completion.
For more information on the Sugarloaf Festival, show previews, exhibitor lists and admission discounts, go to www.sugarloafcrafts.com or call 800-210-9900.