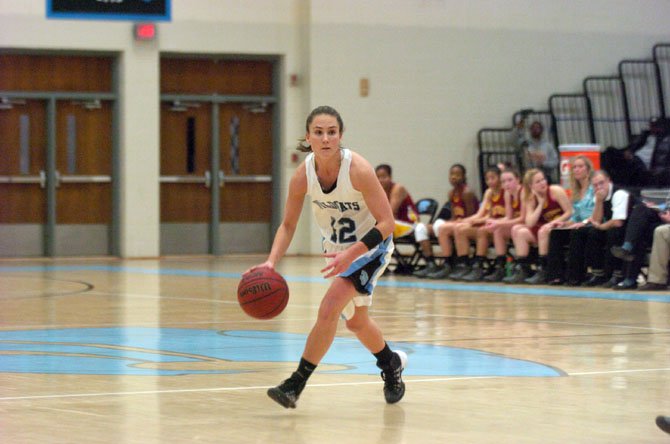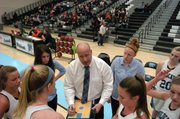 The Oakton girls' basketball program was the defending state champion, had won eight consecutive district titles and hadn't lost to the Centreville Wildcats since 1995 when the two teams faced one another on Jan. 18, 2013.
Centreville had won 14 of its first 15 games during the 2012-13 season and the Wildcats felt confident they could knock off mighty Oakton. The Cougars, however, weren't ready to relinquish their place atop the Concorde District and won by 17 points on their home floor.
"I think we came out scared in the first half," Centreville head coach Tom Watson said after the game.
Centreville got another shot at Oakton the following month. This time, the Wildcats won, 49-38. Ten days later, Centreville beat Oakton again, this time in the Concorde District championship game, 44-41. It was Centreville's first district title since 1993.
Eleven months later, the teams had their first meeting of the 2013-14 season on Jan. 17 at Centreville High School. Friday's contest presented Centreville a chance to show last year's victories against Oakton were no fluke, while providing the Cougars an opportunity for payback.
In the second half, the Wildcats made a case that their stay atop the district (now Conference 5) will not be a one-and-done affair.
Centreville defeated Oakton 55-38 on last Friday. The Wildcats led 24-17 at halftime before outscoring the Cougars 18-8 in the third quarter. A bucket by senior point guard Jenna Green with 3:52 remaining in the fourth quarter gave Centreville a 52-32 advantage, its largest lead of the night.
"[Games against Oakton] mean everything. Every coach and every team has a chinning bar. Fred Priester is my chinning bar."

--- Centreville girls' basketball coach Tom Watson
After going winless against Oakton since the mid-90s, Centreville has now won three straight against the perennial power.
"Last year, the first time we beat them --- we beat them for the first time in [nearly] 20 years --- that was the game that really helped us because then we realized that we could do this. We could win," Green said. "It's the same this year. We definitely have a good chance [of winning the conference] again and we're going to go after it. It's my senior year, there's a lot of seniors on this team and we want it. We want it really bad."
Green, who signed with William & Mary, played a major role in last Friday's victory, finishing with a game-high 20 points. She opened second-half scoring with a three-point play after a nifty spin move.
"She's definitely the best player in the region, point guard especially," Watson said. "Everyone knows that. Jenna has earned it. Nothing was given to her. She's in the gym before anybody, she's in the gym after everybody, she goes to a trainer three, four, five times a week. If you're putting that work in, then it should come back to you."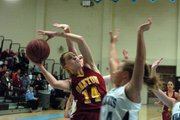 Green is one of six seniors on the Centreville roster. The Wildcats also have six juniors and two freshmen. Centreville started four seniors and a junior last Friday.
Meanwhile, Oakton has just two seniors on its roster, along with five juniors, two sophomores and three freshmen. The Cougars started one senior, two juniors, a sophomore and a freshman against Centreville.
Watson, in his second season has Centreville head coach, praised Oakton head coach Fred Priester's ability to continually produce competitive teams.
"It's not a secret that that's our rival. It's not a secret to anybody," Watson said. "It's not a secret that Fred's a great coach. … [Games against Oakton] mean everything. Every coach and every team has a chinning bar. Fred Priester is my chinning bar. … It doesn't matter [when Oakton's top players graduate], he re-tools. [Oakton has three] freshmen and they're still unbelievable. He's got more freshmen, I've got all seniors and the game is still tight until the very end, when we broke away a little bit."
One of the reasons Centreville pulled away was the 3-point shooting of Katie Blumer. The senior guard knocked down a trio of 3-pointers during a 2-minute stretch of the third quarter last Friday and finished with 10 points.
"I think I have the best 3-point team in the region," Watson said. "… I have five kids that can really jack that 3 up. As everybody else knows, Oakton was working their butts off on defense and [it is] debilitating [to the opposition] … when you knock those down."
Junior Caroline Wakefield scored nine points for Centreville. Senior Ailyn Kelly and junior Chrissy Jacksta each had six.
Oakton junior guard and team captain Lindsey Abed scored a team-high 13 points. Freshman guard Aisha Sheppard scored nine points and sophomore guard Alex Marquis had six. Junior guard and team captain Karlie Cronin grabbed six rebounds.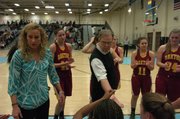 Oakton kept the game close for a half, but after Green's three-point play in the opening minute of the third quarter, the Cougars trailed by double digits for the remainder of the contest.
Oakton finished with nine field goals.
"[The Wildcats] have a good team," Priester said. "I can't say anything poorly about them. They played a good game. We're a growing team and we did not play a good game."
The Cougars spent more than 30 minutes in the locker room after the game.
"I didn't tell them anything," Priester said of Oakton's postgame meeting. "I asked them things. They need to come up with some answers."
Oakton and Centreville will face one another again on Feb. 4 at Oakton High School for the Cougars' senior night. The two teams could possibly meet in the conference tournament, as well. For now, the Wildcats have gotten the best of the Cougars three straight times and are the defending Concorde champions.
"It feels great. It's awesome," Green said about beating Oakton in three straight meetings. "But we still will … see them one, probably two more times. We've got to stay focused because it's really hard to beat a good team like that that many times, so we really need to keep working hard."