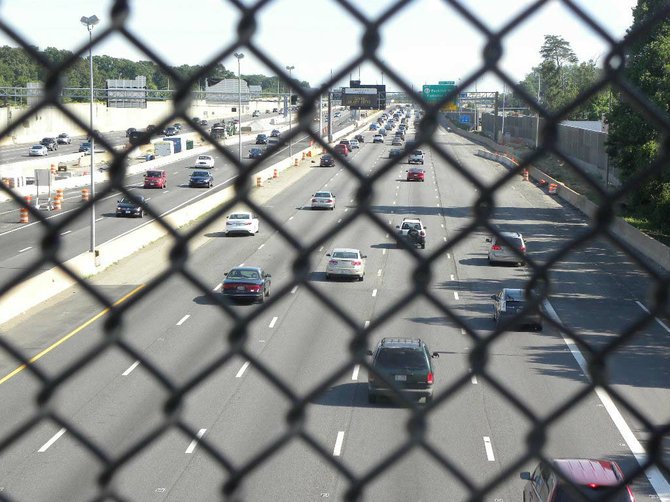 The most direct way from the Saratoga Shopping Center to the Franconia-Springfield metro station by bicycle is through Hooes Road, that is, with the exception of actually getting on the Franconia-Springfield Parkway on a bicycle.
But the sidewalk ends at White House Drive and does not resume for 0.8 miles at Lackawanna Drive. This stretch of road is thin and winding, with blind turns, rolling terrain and cars that often go faster than the 35 mph speed limit.
Trails and sidewalks are available but they would add more mileage and time to the commute. Bike commuter Ivory, of Alexandria said that "bike paths take you too far out of where you need to be at," so he prefers to use the sidewalks instead of the trails when he bikes from Richmond Highway to the Franconia-Springfield Metro.
A CENSUS BUREAU report found that although bicycling makes up a relatively small portion of commuting activity, travel to work by bicycle increased from 488,000 in 2000 to 786,000 in 2008-2012 nationwide. In Fairfax County, the American Community Survey reported that 0.2 percent of residents commute to work.
The report also said that changes in infrastructure, such as those that accommodate non motorized travel, influence decisions people make about their trip to work.
Alan Young, of Burke, has always ridden to work. He bikes 14 miles each way to his job in McLean, and it takes him one hour and 10 minutes. He rides on the road most of time.
Young has seen an increase of bike riders every year, and he believes that the perception that bicycles are not vehicles is changing.
To him, drivers on their phones are the most dangerous to bicyclists. "I can't predict what drivers distracted by their devices are going to do," he said.
Young suggests that, on the road, bicyclists need to ride about three feet out from the curb or where the right lane begins. Bicyclists would be more visible to cars and bicycles would be perceived as vehicles in this position.
Fairfax County Department of Transportation Bicycle Coordinator Charlie Strunk said that perhaps driving tests should be modified to include questions about bicycle awareness. But it is not only motorists who need to change their behavior on the road.
In 2012 there were 106 reported bicycle accidents in Fairfax County. Forty-five were bicyclists' faults, 56 were drivers' faults and five were unknown or inconclusive. Ten occurred in the Springfield-Burke area.
Strunk said that he has known people who have behaved differently when they were on a bicycle than when they were in a car. He said that it is as if there were different kinds of modes: driver mode and biker mode.
ON JUNE 17, the Fairfax County Board of Supervisors approved a 100 million transportation bond referendum. Eighty-four million of the proposed bond will be allocated for pedestrian and bicycle improvements. Supervisor Pat Herrity (R-Springfield) was one of two dissenting votes.
Herrity said that he is supportive of trails but the scope and extent of what is proposed in suburban areas do not make sense. "I'm not anti-bike and anti-pedestrian."
Herrity gives the proposed improvements on Lorton and Silverbrook roads as one of the concerns he has for voting against the transportation bond. The county's proposal calls for about 30 feet of shared paths and bicycle lanes. "You don't need 30 feet of right of way for bicycles and pedestrians ... That's three lanes," he said.
Strunk said that Fairfax County riders are geographically diverse. "There are different riders in Reston, Mount Vernon and Springfield" and they have different needs, he said. But, if there is really good infrastructure "You're going to encourage people to walk and bike."