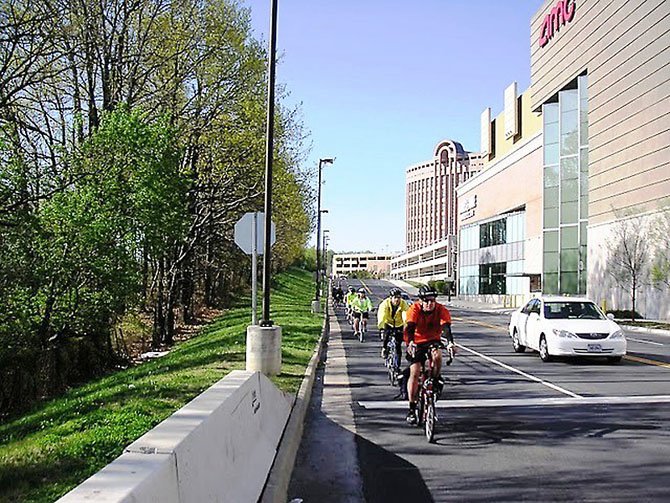 As the weather gets warmer and the days get longer, Northern Virginia bicyclists are back on the roads and trails, despite the Virginia General Assembly's antipathy for bike safety bills this session.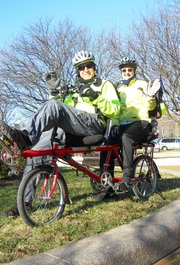 "Between us, BikeVirginia, RideRichmond, WABA, RABA, TBA, and other groups across the commonwealth, we put a lot of energy into getting cycling-friendly legislation through during the 2013 General Assembly session," said Michael Gilbert, co-founder of RideRichmond on the VBF website. "Unfortunately, none of it came to fruition."
State Senator Chap Petersen (D-34), who introduced several unsuccessful bike safety bills this session, said he was baffled by the defeat of his "dooring" bill, which would have required motorists to open their doors safely when there is oncoming traffic. The maximum civil penalty for recklessly swinging car doors open was $100. The bill generated the most attention—and optimism from bike advocates—when it sailed through the Virginia Senate and a House transportation subcommittee.
But the House Transportation Committee swung the door shut on "dooring" when it voted 7-7 on the question of reporting it to the full House, since a tie vote equals a loss in the General Assembly. On his blog—OxRoadSouth—Petersen said his bill was "logical, fair and simple.
"It simply stated that a driver, who is opening a car door near moving traffic, must be accountable for any accidents caused by that open door," Petersen said.
"Why is this relevant? Am I restricting personal freedom? Common sense? No, it's about safety. As bike lanes become more prevalent in our urban areas, 'dooring' has become a major threat to cyclists. … Since drivers are in the best position to avoid 'dooring' accidents, that is only fair," Petersen said, adding that more than 20 states, including Maryland and D.C., already have this law.
But area bicyclists refused to be sidelined by these legislative defeats. Fairfax Advocates for Better Bicycling put out its newsletter this weekend, sharing the following information:
W&OD Trail Extended Hours
The W&OD Trail is now open from 5 a.m. to 9 p.m. between Shirlington and Herndon. The Northern Virginia Regional Park Authority recently installed signs along the trail showing the new hours and requirements for use after dark.
"This is good news for bike commuters and other people who need to use the trail at night," said Bruce Wright, chairman of FABB. "Most commuters currently ride on the trail after dark because they have few safe alternative routes. … These new hours are experimental and could be expanded (or restricted) in the future. If you have comments, send feedback to NVRPA."
According to the Extended Hours of Use Requirements, cyclists are required to "wear reflective clothing that can be easily seen from the front and rear" and to have a front and rear light. Trail users on foot are also required to have front and rear reflective clothing and they "must carry a light or wear a flashing light."
Wright said FABB will be out on the trail over the next several weeks offering free lights to trail users. See the FABB blog for more details.
Bicycle Master Plan
The county Bicycle Master Plan was completed in July 2012. "We're hoping the plan goes before the Planning Commission and Board of Supervisors this spring," Wright said.
Parkway Trail Now Open
Due to construction of the Fairfax County Parkway overpass at Fair Lakes Parkway, the adjacent paved trail was dug up and closed for many months. Finally a replacement trail is taking shape. While parts of the new trail are not paved yet, the trail is now open between Route 50 and Fair Lakes Parkway. FABB tried to get the county and VDOT to provide a signed detour for trail users through a nearby neighborhood while the trail was closed, but despite numerous attempts, they were not successful. "The Parkway Trail is a major commuter and recreational trail that never should have been closed without a suitable detour," Wright said.
2013 Bike to Work Day
Registration is now open for Bike to Work Day on Friday, May 17. Several events will be held in Fairfax County: Burke VRE Station, Fairfax Corner, Herndon, the new Merrifield-Mosaic District, Merrifield-W&OD Trail, Collingwood Park (new), Reston, and Springfield Metro at Walker Lane, Tysons Corner Center, and Vienna.
"We plan to have FABB reps at each of these events to provide route information, answer questions, and to ask people to sign up for our e-newsletter," Wright said.
Upcoming Events
Many communities hold health and environmental fairs such as Earth Day, Arbor Day, and so forth during the spring, and we encourage everyone to ride your bikes and promote bicycling when you attend these events.
*Wednesday, March 20—FABB Monthly Meeting
*Tuesday-Thursday, April 9-11—Fairfax Co Budget Hearings
*Wednesday, April 17—FABB Monthly Meeting
*Thursday, April 18—Vienna Green Expo
*Tuesday, April 23—USGS and Freddie Mac Earth Day events
*Saturday, April 27—Paul's Ride for Life, Clean Fairfax Earth Day event, and Be Fit McLean
*Wednesday, May 15—FABB Monthly Meeting
*Sunday, May 5—Vienna Bike Safety Awareness Day
*Friday, May 17—Bike to Work Day
*Saturday, June 1—Tour de Fat
"Since 2006, Fairfax County has become more bike friendly with the adoption of the county-wide bicycle initiative, but cyclists still need better-connected bike routes, secure bicycle parking and education programs to help them travel comfortably and safely," Wright said, adding that passage of the Bicycle Master Plan is the group's primary goal.
"It contains a roadmap for making Fairfax a bicycle-friendly community. Implementing the plan will take a commitment from our community leaders to building a safe, connected bicycle network that will benefit all local residents."
"FABB is clearly focused on improving our quality of life and health by providing better opportunities for biking," said Supervisor Catherine Hudgins (D-Hunter Mill). "(The group) has already completed a key goal of informing the community and providing directions on how to improve biking opportunities with its wonderful guide."
Hudgins, who has backed many cycling initiatives, said she thinks cycling generally helps create more livable, healthy and sustainable communities by "connecting us as people."