Typical dog owners may not think of comparing their furry companion to a wild horse or burro, but the comparison isn't too far-fetched.
That's what wild horse and burro adopters, including Phoebe Karkos, have to say, at least.
Karkos joined dozens of other wild horse and burro enthusiasts at an adoption event at the Meadowood Recreation Area in Lorton on June 21. Nearly 40 of these animals were available for adoption.
Steve Meyer of the Bureau of Land Management's Wild Horse and Burro Adoption Program wasn't sure how many had been adopted during the event, but said there were definitely many interested individuals.
And Karkos can see why. She adopted a wild horse, which she named Sjoelia, a couple years ago, and has loved the experience.
"They're really intelligent animals," Karkos said. "They're loyal, just like a dog would be."
The animals require a great deal of training, but they can catch on quickly, Karkos said.
Visiting from Rhode Island, Karkos and her mother, Leslie, said they would love to have adopted another animal at the Lorton auction, but just didn't have enough space back home.
"They're great animals," Leslie Karkos said.
Margaret Mahoney and Peggy Thomas visited the adoption event in Lorton because they are fascinated by the wild animals.

"My sister just bought one a few years ago. I just love them," Mahoney, a previous Fairfax Station resident, said.
She wants to adopt one in a few years, but came to the event to see what was available.
"I'm really hoping I could have one," Mahoney said.
Potential adopters need to know about training, said Meyer, who has adopted one of the horses.
"Bonding with them is the best part. They're really like a dog," he said.
The Wild Horse and Burro Program was created following the establishment of the Wild Free-Roaming Horses and Burros Act of 1971, which put the federal government in charge of wild horses and burros found on public lands to save them from being slaughtered.
According to the BLM, there are over 49,209 wild horses located on land managed by the BLM. Thousands of horses are removed from the land each year by the BLM in order to control herd sizes. More than 230,000 wild horses and burros have been adopted since 1971.
Adoption events like the one in Lorton take place across the country every year in order to ensure ideal herd sizes.
For those who were unable to make it to the event, there's still a chance to adopt a wild horse or burro. The Wild Horse and Burro Adoption program, based in Milwaukee, Wisc., offers internet adoption. Internet applications and bidding are available now until July 8 at 1 p.m.
Photo Gallery
Wild Horses and Burros Visit Lorton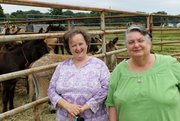 Click Photo for Flash