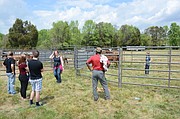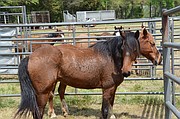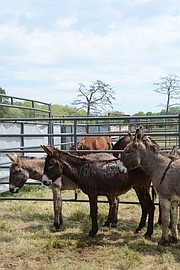 When the land can no longer support the number of wild horses occupying it, the U.S. Bureau of Land Management rounds up and relocates groups of them to manage the population and natural resources.
On April 21 and 22, nearly two dozen wild mustangs and burros (donkeys) from California and Oregon came to Lorton for adoption as part of the BLM's Wild Horse and Burro Program.
The animals were penned in the Meadowood Recreation Area on Gunston Road for potential adopters to observe and meet with them. Several had already been previewed and applied for online prior to the event.
Krissy Close came down from outside of Baltimore, Md. for the adoption. Close trains horses for racing and showing, and thought a wild mustang would be "a fun challenge," for them. "We'll see what cool stuff he likes to do," she said.
Suzanne Myers of Pennsylvania has adopted several wild mustangs. She taught several lessons at the adoption on "gentling" them so that eventually they may be harnessed and ridden.
"I'm here to show how the mustangs act much like any other horse," Myers said.
In one demonstration, Myers was in a fenced off area one-on-one with a mustang she'd never worked with before, that had never been in captivity before. She followed it around the pen with a long metal pole, eventually resting the pole on its back while it ran. Myers explained she needed to have the horse feel her presence, a connection, and the pole acted as an extension of her.
Other adopters with wild mustang experience said those horses are completely different from domesticated animals, in that "you get a fresh slate," according to Amanda Frazier of Amosville, Va.
"You can correct dangerous behaviors quickly, usually," Frazier said. "They're hearty, they bond well, they try their heart out once they feel safe."
For more information, visit www.blm.gov.