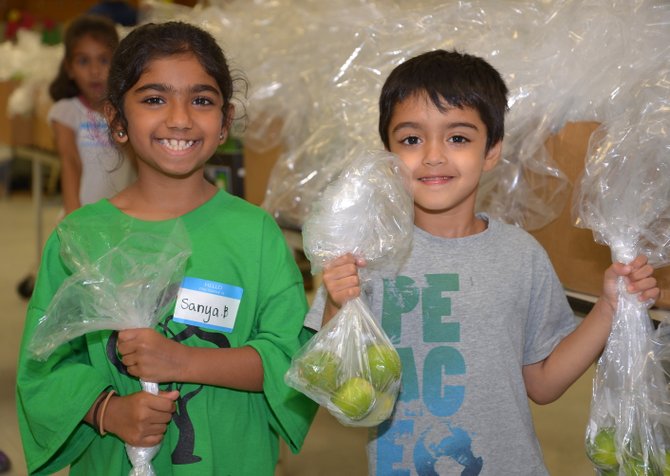 For the tenth year in a row, the Foundation for Appropriate and Immediate Temporary Help (FAITH) in Herndon is organizing a food distribution event to correspond with the Muslim holy month of Ramadan. Until now, the annual event has been known as "Herndon Without Hunger," but FAITH PR Coordinator Saman Quraesh explained that going forward the food share would be called "Project Food Boost."

"This is more in keeping with our goals," said Quraesh. "For one thing, we are here to help anyone in need, so we didn't want our name to make people outside of Herndon feel like they couldn't get assistance from us. Secondly, the mission of FAITH is to provide assistance, support and resources to give those we serve a 'boost' out of poverty. Project Food Boost tells it like it is."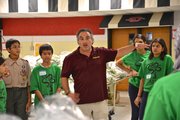 THE FIRST OF THE FIVE distributions for the 2014 campaign was held on June 26, with dignitaries like Herndon Mayor Lisa Merkel on hand to lend support to the Opening Ceremony and to add her thanks and appreciation to the organization and the staff and volunteers who make it possible. Herndon High School, at 700 Bennett Street, provides the venue. Fundraising Coordinator Somayyah Ghariani reported that following the private ceremony and remarks, more than 300 persons were served when the doors to the public were opened. With the numbers attending climbing each year, "It's a good thing we can use the high school's cafeteria," Ghariani added. "I don't think we could fit at the library, one of our early distribution sites, anymore."
Each distribution event officially begins at 4 p.m., with the volunteers showing up beforehand to unload the food, set up the tables, bag a variety of produce and organize everything from the orderly welcoming of the clients to guiding them through the food maze and offering assistance to get their goods – with filled bags that can weigh as much as 60 lbs. - to their vehicles. On the afternoon of July 3, the skies were threatening and the humidity was pushing into the "seriously unpleasant range," but the line outside the door already stretched to the side parking lot by 3:30. "We're ready," said FAITH Executive Director Ambreen Ahmed. No one had to wait outside for long. One side of the cafeteria was prepared with chairs and young volunteers walked among the clients with bottled water and smiles to make the wait more comfortable. There was even a special section designated for elderly and disabled clients.
Logistics, a lot of manpower, and most importantly and impressively, this year all of the food being distributed comes directly from long-time patron Robert Bassam, owner and CEO of Easterns Automotive Group, the used car dealership giant serving Virginia, D.C. and Maryland. As always, Bassam had no interest in being singled out or spotlighted for his generosity. He was too busy overseeing the delivery of the food, organizing the layout and assembly lines and making sure that everything proceeded with efficiency and safety. It was up to others to offer their praise of Bassam and his small army of employee-volunteers. "It is truly amazing. Mr. Bassam and Easterns Automotive really stepped up, way beyond anyone's expectations," said Quraesh. "I don't think you will get any quotes from him," added Ghariani. "He's not here for that. He just wants to help, to give back and serve."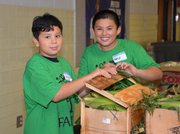 Obviously, a lot of others feel the same way as Bassam. Numerous members of FAITH and from the All Dulles Area Muslim Society (ADAMS) turned out to help. Parishioners from other faiths also joined in, as they have throughout the history of the campaign. Also quite noticeable among the volunteers were the large number of youngsters, from pre-schoolers to high schoolers all pitching in. FAITH Executive Director Ahmed pointed to one group of teenaged gentlemen with pride. "They have been fasting all day, yet here they are, doing the good works, working hard," she said. There were even clients among the volunteers, like "Fatti Degu" (name changed to preserve her privacy), who has attended the Herndon Without Hunger distributions for the past three years, but also volunteers to show her appreciation for the assistance. "I go not only for the food," said Degu, "but to meet people and when you talk to the people you forget your problems."
THREE MORE FOOD BOOSTS will be held at Herndon High School on July 10, July 17 and July 24, respectively, all starting at 4 p.m. The folks at FAITH welcome everyone to check out their new-look website, logo and tagline – Building Stronger and Kinder Communities – at www.faithus.org and the services, volunteer and donation opportunities available. And, of course, if you need a hand, the members of FAITH are there to help.