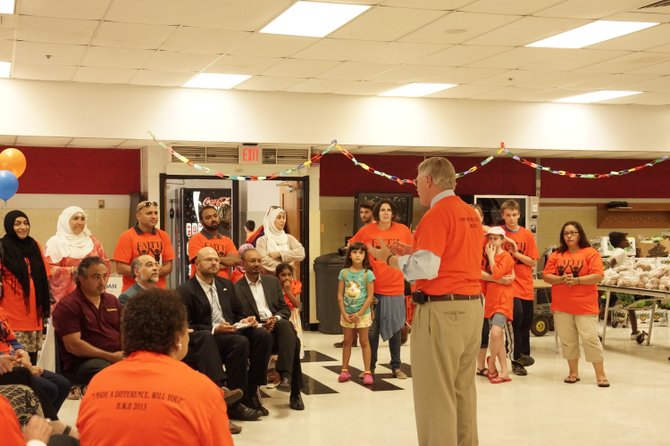 The Stock Market has been posting record highs. Homes in the local market have been selling in less than two weeks, sometimes for more than asking price—rising numbers that constantly make the news, all while another less publicized statistic about our area has also risen: the number of families in need, like those who attend the Herndon Without Hunger (HWH) food distribution that takes place during the holy month of Ramadan.
Photo Gallery
Herndon Without Hunger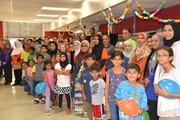 Click Photo for Flash
"During Ramadan, Muslims choose to fast during daylight hours, but we know that all around us others don't have that choice, the choice is made for them and their families," said Somayyah Ghariani, the coordinator of HWH. "During Ramadan, we will host food distributions on Thursdays from 4:30-5:30 p.m., starting on July 11, with the last event on Aug. 1."
HWH is a program of the Foundation for Appropriate and Immediate Temporary Help (FAITH), a non-profit that started at the All Dulles Area Muslim Society as an informal group of people just wanting to be of service to the community. Under the guidance of President and Founding Director Tanveer Mirza, FAITH became a 501(c) organization in 1999.
Ambreen Ahmed is the executive director of FAITH and deeply involved in the Herndon Without Hunger program. "FAITH runs a food pantry in Herndon all year, as well as a thrift store and two shelters, but this program is about going out into the community, reaching more people, and giving more people a chance to be of service and to see the needs of their neighbors for themselves," said Ahmed. "The first year we ran the food outreach program, we started at our own offices. As more people came for help, we moved to the library, then the middle school. Here we are today in the Herndon High School cafeteria, and there are still a few people waiting outside the door."
At the July 25 distribution, 698 families were served—a far cry from the 250 families who attended the first Herndon Without Hunger event. According to Ahmed, even though HWH's army of volunteers arrived hours before start time to set up the food tables, and package and prepare for distribution, when they approached Door 11 of Herndon High School, there were already a number of families waiting, worried that if they did not get there early, supplies might not last.
And just where did all the food come from? For the most part from long-time patron Robert Bassam, owner and CEO of Eastern Motors. Not only did Bassam supply the staples like rice, oil and pasta, as well as fresh fruits and vegetables, he also supplied quite a bit of manpower in the form of volunteering employees from his company. And he was even on hand to help in the delivery and logistics.
The organizers could not praise Bassam enough, nor could they offer enough thanks for the army of volunteers who made preparing and distributing food for almost 700 families look like a well-rehearsed performance. In addition to the help provided by the Eastern Motors gang, volunteers also came from the All Dulles Area Muslim Society, from FAITH, from associated family members, and from the congregants and parishioners from a number of area houses of worship. Becky Wilson manned the table of fresh corn and passed out smiles with the produce and was seen helping a young pregnant client carry her heavy food bag. A member of the Church of Jesus Christ of the Latter Day Saints in Herndon, Wilson, may not know much about the Muslim faith or traditions, but she knows about pitching in to help. "The Herndon Without Hunger event was announced at our church. This is my third time to volunteer," she said. Even some local companies got in on the act, like Veris Consulting of Reston, who sent six volunteers, as part of the company's Day of Service initiative.
"This is really a community effort," declared Ambreen Ahmed. "That is what makes it so beautiful. Young, old, from different faiths and different backgrounds. They are all here together, working side by side and helping."
Herndon Without Hunger will be distributing food once again on Thursday, Aug. 1 at Herndon High School, Entrance 11, from 4:30-5:30 p.m. More information for those in need, or those wishing to donate or volunteer for the event or for any of the community service programs run by FAITH can be found at their website, www.faithus.org. The FAITH Thrift Store is located at 795 Center Street, Suite No. 2 in Herndon. Check the website or call 571-323-2198 for store hours or more information.