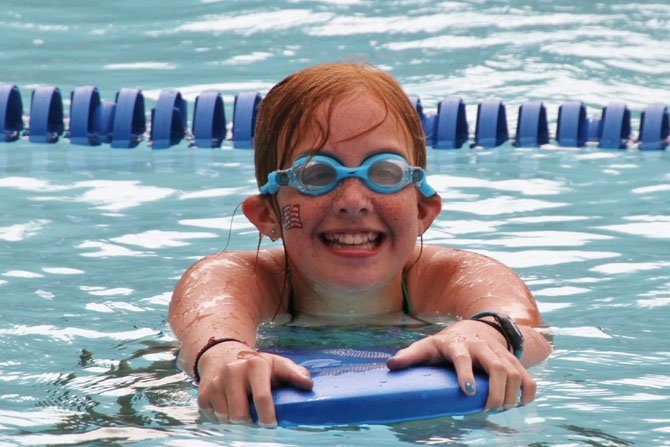 The Barrington Community in Fairfax Station, in partnership with the Glitter Matters Foundation, hosted a unity walk and swimathon on July 4 to support Ellie Schleyer. Ellie is a 12-year-old girl from the community that is suffering from an undiagnosed degenerative brain disorder. The white matter in her brain is inflamed and swollen causing health and cognitive challenges. Ellie nicknamed her white matter "glitter matter" because, like other preteen girls, she likes all things that sparkle and shine.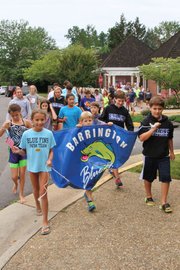 She has traveled all over the United States to be seen by the best doctors in search of a diagnosis. Her team of doctors at Children's Hospital in D.C. is lead by Dr. Adeline Vanderver, a neurologist who is doing everything she can to treat Ellie and stop the disease from progressing, but there are no more tests to give and every treatment is truly just experimental. Subsequently, Dr. Vanderver has started a bio-repository project to store and test brain samples from children with neuro-immune disorders like Ellie that have no diagnosis. Without this research, there will be no more tests. Without the tests, there can be no diagnosis. Without a diagnosis, there is no treatment, or cure. The Blue Fins swim team have loved and supported Ellie from the beginning, encouraging her to keep going, swimming, racing, and fighting. In an effort to make a real difference in Ellie's fight against her disorder they raised money and awareness by swimming laps for pledges. The money raised will go to Children's National Medical Center in Washington D.C. to help fund the much needed research to help Ellie and other kids like her.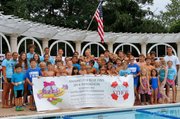 Over 50 swimmers swam 3,745 laps, over 53 miles, in support of Ellie. Team Representative Reby Hopler said, "Just looking at all of this makes me so emotional. Just seeing the outpouring and willingness from our community to support this cause just amazes me." Children as young as 4 and as old as 18 swam laps for two hours. Kevin Jackson, a 14-year-old swimmer supporting Ellie said, "I'm swimming today because I wanted to help out Ellie and Glitter Matters to raise money for research. I'm at 66 laps and my goal is 100!" Eight year old Faith Clark added, "'I'm swimming a lot of laps to help Ellie get better." Ellie's mother, Stephanie Schleyer said, "The community and local school has been amazing in supporting not only Ellie but our entire family. We are so fortunate to be part of a community of people who are willing to help out in any way. We are so blessed." Ellie added, "I love swimming because it makes me feel alive!"
There are more details on Ellie, her family, and the Glitter Matters Foundation at the foundation website www.glittermatters.com.