On May 13, The Community Foundation for Northern Virginia's Margery Barkdull Memorial Fund for Animal Welfare announced four winners for the 2014 grant process from a group of 12 applicants. The winners are Friends of Homeless Animals, receiving $2,000; Prince William Humane Society, receiving $3,000; The Wildlife Rescue League, receiving $3,000; and The Wolf Trap Foundation, receiving $2,000. Each of these organizations are dedicated to the welfare of animals.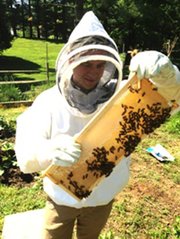 The Wolf Trap Foundation will use the grant to develop and expand it's apiary program, started by Chris Faessen, the executive chef at Wolf Trap. The money will buy supplies needed to keep the bees healthy, as well as an observation hive for people to visit.
"We will display bees and use it as an education opportunity," said Michelle Pendoley, director of public relations.
Friends of Homeless Animals is planning to use this grant money to provide emergency medical relief to animals that do not have a home. Prince William Humane Society's grant will support the Seniors 4 Seniors dog adoption program, which matches older pets with senior citizens.The Wildlife Rescue League will provide rehabilitation supplies to licensed wildlife rehabilitation facilities which will help care for wild animals.
For 501 (c)(3) organizations, such as animal shelters, animal rescue programs, conversation organizations and others, looking to apply for this grant in the future, visit www.cfnova.org/for-grant-seekers/barkdull-animal-welfare-fund. The application for 2015 will open next March and be due by April 1. Winners will be suggested by a committee of volunteer area experts, people who serve and work with animals and community donors.
The committee will decide who they think the winners should be based on "what type of impact this grant will have on their program," said Tara Nadel, Director of Communications and Events for the Community Foundation. Those suggestions will go to the board of directors, who will either approve or deny those recommended.
The board will then look at how much the organization is requesting and how much they are willing to fund to determine the final winners. The winners will be announced in June and will receive between $2,000 and $5,000 to help protect animals.