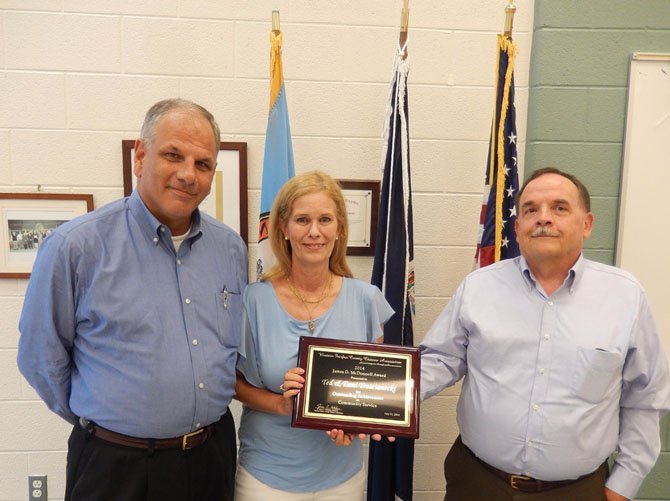 Each year, the West Fairfax County Citizens Association (WFCCA) presents the James D. McDonnell Award to honor a local resident's outstanding service to the community. Monday night, July 21, it was given jointly, for the first time.
Receiving it were husband and wife, Ted and Tami Troscianecki, of Centreville's Virginia Run community. They were honored for their work to inform the citizens and decision-makers about all the facts to be taken into consideration regarding the Braddock/Pleasant Valley Road roundabout issue.
"Jim McDonnell set the bar high, as he was instrumental in ensuring that the development of the Western Fairfax area was not overwhelming and provided the associated amenities necessary for a livable community," said WFCCA Land-Use Chairman Jim Katcham.
Speaking during the WFCCA's quarterly meeting, he said this year's award recognizes the Troscianeckis for their work in reviewing the roundabout's impacts. "The joint efforts of Ted and Tami regarding the community's opposition to the proposed roundabout were extraordinary," said Katcham.
He said the couple met with community leaders, elected officials and county staff to obtain extensive data regarding traffic flow through the intersection.
They also investigated the adverse environmental impact on the area and expressed the community's concerns about the effect this project will have on both local traffic and the environment.
"This information and data was presented at a WFCCA quarterly meeting, thus providing the community with a greater understanding of the overall impact of the proposed road modifications," said Katcham, "In particular, [the Troscianeckis illustrated] the fact that much of the increased traffic flow would be coming from Loudoun County."
"Their joint efforts resulted in a clear and concise understanding of the potential impact the roundabout will have on Fairfax County," he continued. "While the final decision wasn't favorable to the community, a tremendous effort was made to convince elected officials that the proposed changes will adversely affect Fairfax County citizens. However, as Ted has said, 'It's not over, yet.' Ted and Tami, congratulations, and thank you for your exemplary community service."
Katcham then presented them with a plaque, and Planning Commissioner Jim Hart – a past chairman of the WFCCA Land-Use Committee – recalled what impressed him about Ted Troscianecki, the first time he saw him at a WFCCA meeting.
"It was 1997 or '98, and he and Tami had just moved back here," said Hart. "He said they wanted to be part of this area and contribute to it, and that speaks volumes about their commitment. Jim McDonnell would be proud that this award went to them. He recognized that the community would be better off if we weren't partisan and we worked with both sides."
"We wanted to take an active role in guiding the quality of life here," said Ted Troscianecki. "We felt a responsibility and wanted to participate."
Speaking on behalf of both of them, he said he and Tami "truly appreciate this award. Jim McDonnell cared very much about the quality of life in Western Fairfax and we feel the same way. He embodied the spirit of community, and to be acknowledged with an award that bears his name means a lot to us. Thanks to all in the WFCCA, as well as to Planning Commissioners Jim Hart and John Litzenberger, for recognizing us."