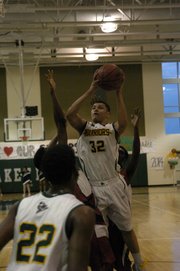 Dominique Tham has been a force in the paint for head coach Tony Bentley's Wakefield boys' basketball program, which has reached the state tournament each of the last two seasons.
As a sophomore, Tham recorded a triple double against Robinson in the region semifinals. He finished with 15 points, 11 rebounds and 12 blocks, helping the Warriors earn a trip to the championship game and a berth in the state tournament. Last season, the junior forward earned 5A North region Player of the Year honors while helping Wakefield capture the region championship.
During the 2013-14 regular-season finale, Tham put on a show against Mount Vernon, totaling 31 points, 23 rebounds and eight blocks.
"There's everybody [else], and then Tham," Mount Vernon head coach John Wiley said. "He had a heck of a game. Our game plan was to put a body on him because we know he roams from elbow to elbow and camps out in the paint, it just didn't work."
Now a rising senior, Tham has received interest from several colleges, but has yet to commit. Tham recently participated in a Q and A via email with The Connection.
*Connection: At what age did you start playing basketball? Have you always been a post player?
Tham: Seventh grade or 12 years old. I have been playing in the post since sophomore year.
*Connection: You've made it to the state tournament two years in a row. What did you learn from those experiences that can help you during your senior year?
Tham: It has been great getting to the state tournament two years in a row. But as you can see, we have not won it, yet. So I don't take it for granted. It is a blessing, but now I hope my leadership will take us a step further.
*Connection: How tall are you? Have you always been tall, or did you hit a late growth spurt?
Tham: [I am] 6 feet 4 1/2. I don't consider myself tall. I want to be 6-8 hahaha.
*Connection: What is your favorite athletic moment from your first three years at Wakefield?
Tham: Even with some of the things I have done, I am still waiting for my [favorite] athletic moment.
*Connection: I think Coach Bentley said you have a lot of siblings. How many do you have?
Tham: Seven.
*Connection: Are you the oldest? What is it like having so many siblings?
Tham: Yes, I am. It's hectic, I'm not going to lie, but I wouldn't want it any other way. Without my family, I wouldn't be who I am. And I love the fact that I'm the oldest because I will always set a great example for them.
*Connection: Who is your favorite music artist? Why?
Tham: Meek Mill. I like his style, and he talks about what's going on in the world and talks a little about his life and the struggle people go through.
*Connection: What is your favorite movie? Why?
Tham: 'The Longest Yard.' It's just hilarious and it has a lot of my favorite actors, like Adam Sandler, Terry Crews and Chris Rock.
*Connection: Do you play video games? If so, which one is your favorite?
Tham: Yeah, I play a lot of NBA 2k and FIFA!
*Connection: What is your favorite hobby outside of basketball?
Tham: I just like being with my family and teammates.
*Connection: What location is the farthest you have traveled from the Washington, D.C. metro area?
Tham: The Dominican Republic, where some of my mother's family is at.
*Connection: Are you a pro sports fan? If so, who are your favorite teams?
Tham: Yes. I don't really follow teams, but I am a big LeBron fan!