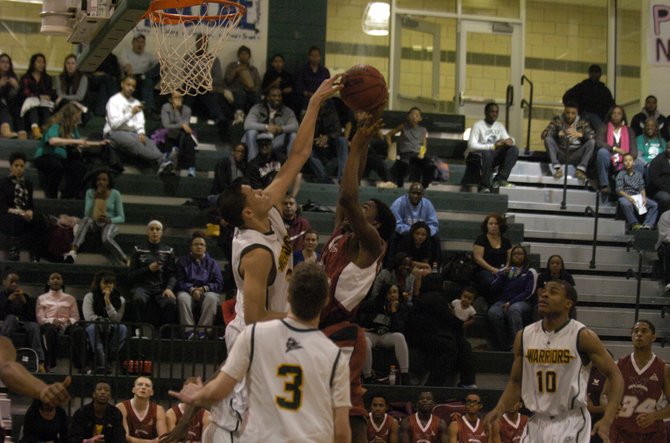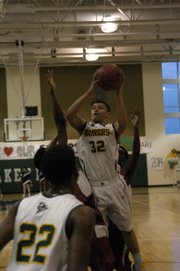 Mount Vernon senior Brendon Maturey attacked the basket early in the third quarter Saturday when Wakefield junior Dominique Tham stepped up to defend the lane.
Tham, a 6-foot-4 presence in the paint, is known for swatting shots. During this possession, however, No. 32 took a different defensive approach.
Rather than leap and attempt to add another block to his already impressive total, Tham stood his ground and took a charge, giving possession back to the Warriors.
"I don't take charges," Tham said after the game, confirming head coach Tony Bentley's claim that it was the first charge Tham had taken all season.
Whether the result of using a foreign defensive technique or simply bad luck, Tham also took a shot to the groin during the play and headed to the bench shortly after. Pain was about the only thing that could slow him down during an otherwise career-best performance.
Tham scored a career-high 31 points, grabbed 23 rebounds and finished with eight blocks during as the Wakefield boys' basketball team concluded the regular season with a 70-48 victory over Mount Vernon on Feb. 15 at Wakefield High School. The Warriors enter the Conference 13 tournament as the No. 1 seed due in large part Tham, who has transitioned to team leader this season after a strong sophomore campaign during Wakefield's run to the 2013 AAA state semifinals.
"He, without a question, is the Player of the Year in our conference," Bentley said. "I know the guys from Edison are going to have something different to say, but there isn't anybody better than Dominique Tham in our conference."
Tham came on strong down the stretch last season, recording a triple-double against Robinson in the region semifinals. His 15-point point, 11-rebound, 12-block effort helped the Warriors beat the Rams 68-58 and earn a trip to the region championship game and a berth in the state tournament. But while Tham made evident his ability as a difference-maker, senior guard Khory Moore was Wakefield's leader and top offensive threat.
"Dominique wasn't the man last year. It was Khory's team," Bentley said. "This is Dominique's team this year."
"Dominique wasn't the man last year. It was Khory's team. This is Dominique's team this year."

--- Wakefield boys' basketball coach Tony Bentley
Moore is now a freshman on the Virginia Wesleyan men's basketball team and Tham is averaging a team-high 16 points per game for Wakefield, according to stats from the Washington Post's allmetsports.com. Tham is also an impact rebounder and shot-blocker. He is one of many returning Warriors who have stepped into new roles after the graduation of standouts Moore and Ermias Nega.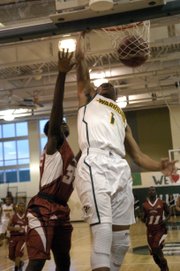 "Domo is stepping up," Wakefield senior Re'Quan Hopson said. "Thirty-one [points]? That really wasn't him last year. [He] was more [about] rebounding and stuff like that. Now he's stepping up his scoring. … [Our] roles have changed."
On Saturday night, Tham was simply too much for Mount Vernon to handle. He helped Wakefield close the third quarter on a 10-0 run with a three-point play. He scored the Warriors' first eight points of the fourth quarter, including a tip-in to give Wakefield a 64-44 lead with less than five minutes remaining.
"There's everybody [else], and then Tham," Mount Vernon head coach John Wiley said. "He had a heck of a game. Our game plan was to put a body on him because we know he roams from elbow to elbow and camps out in the paint, it just didn't work."
Hopson, a senior forward and another key player from last year's state tournament appearance, finished with 12 points, including a transition dunk. Junior guard Marqua Walton knocked down four 3-pointers and also scored 12 points.
Wakefield faces Thomas Jefferson tonight in the conference tournament quarterfinals. The semifinals are on Wednesday, Feb. 19 and the championship game is Friday, Feb. 21.
"You don't want to backtrack," Hopson said about Wakefield's goals for the postseason. "We don't feel like we lost too much to change our goals, so the goal is just the same thing --- to go back to states."