When the early settlers came to what is now Great Falls and cleared the land for farms, they often left one type of tree to provide shade: the white oak. Residents can still see some of these giants today, nearly two hundred years later. Many of the spots where early local settlers gathered still have these huge oaks: behind the Grange, in front of the Old Schoolhouse, next to the Great Falls Methodist Church, along the road in front of the long-ago little Jefferson School on Beach Mill Road (shown in the accompanying photo), at the one-room Smith Chapel on Beach Mill Rd. and near the farmhouse for Hickory Vale Farm on Georgetown Pike.

We are lucky to have these sentinels of the past, acknowledged by many arborists as the king of east coast trees. But many of them are disappearing as development and Mother Nature take their toll. A quick survey shows that virtually no one in Great Falls is planting new white oaks, maybe because they are a slow growing tree in an age when instant greenery is prized.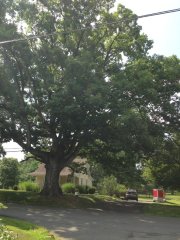 To spur interest in keeping these giants part of our community's future, the Great Falls Citizens Association (GFCA) has launched the Legacy White Oak Project to plant a new generation of white oaks. Our initial goal has been to plant 8-10 foot white oaks at our local parks. To that end, we have established agreements with the Fairfax County Park Foundation and the Library Foundation so that residents' contributions for trees on those properties will be fully tax deductible. County facilities managers have identified sites in most local parks and at the library.
Trees will only be planted if residents contribute. The cost of a new tree, mulching, staking and two months of watering is $434. For the fall 2014 program, contributions are due by Aug. 25. (The program will continue tree planting in spring 2015).
Great Falls residents are responding enthusiastically. The three tree sites at the library were snapped up in the first week. Donations have been made for oaks at Colvin Run Mill and Riverbend Park. Sites are still available at these locations and at Nike Park (next to Forestville School) and Lockmead Park (on Riva Ridge Rd). If your son or daughter is an avid soccer, lacrosse or baseball player, think about donating a tree at one of the playing fields in honor of their team. Due to construction issues, there will not be tree sites at the Grange and Turner Farm until next year.
SGB, the local landscaping company that will plant and water the trees, has agreed to also plant them at local homes and churches, and residents' and at least one church have signed up for a white oak too, as have quite a few residents. It's not tax deductible of course if you have one planted at your home, but the landscaper will water it or reduce the price if you want to do that yourself. All trees are guaranteed for a year.
We plan to put the 2014 white oaks in the ground in early September. If you would like to see one planted in a local park, go to the GFCA website where you can fill out the form and send it in to the Fairfax County Park Foundation. If you want to have one planted at your home or church, for further details, contact Bill Canis, GFCA Vice President at bcanis@yahoo.com.