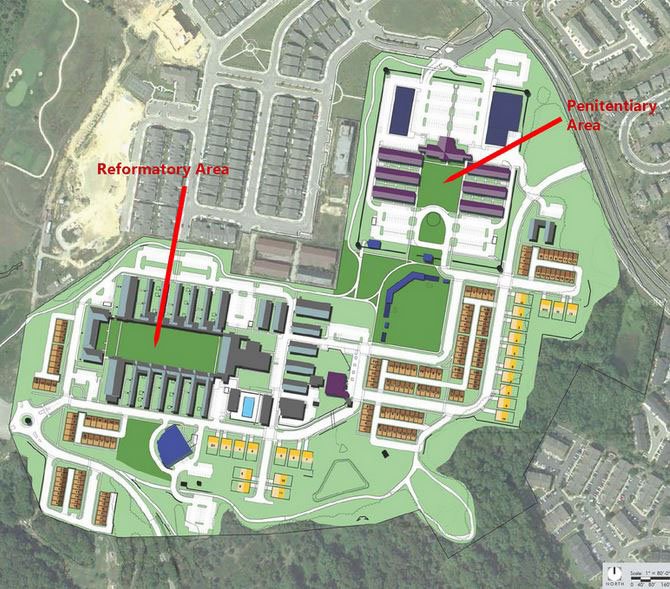 The Fairfax County Board of Supervisors voted Tuesday to approve the plan to develop the site of the former Lorton prison.
When construction is completed, the mixed-used community will include 412 residential units at market rate, 110,000 square feet of office and retail space, and 20,000 feet of community space.
The residential units include 225 apartments in previously prison dorms and workshops, 157 new townhomes, six condos and 24 new homes.
According to a county press release, this was the final decision needed for construction to begin.
Groundbreaking for the first phase is expected to begin this fall, and will create 165 apartments and 107 new homes. The Alexander Company and Elm Street are the developers for the project.
Fairfax County will pay an estimated $12.7 million of the $188 million project. The second phase will begin in late 2016.
The development will take place on the site of the former Lorton prison, which Fairfax County bought the property of for $4.2 million in 2002. It is expected to create 300 new jobs and generate $2.5 million in tax revenue annually.
Housing and restaurants will bring revenue to the area, according to supervisors. The Lorton Workhouse Arts Center, located on the site of the former prison, was a topic of discussion in January when the Board of Supervisors voted to assume part of the workhouse's loan.
"I was pleased to support the re-planning and re-purposing of Laurel Hill," said Sharon Bulova, chairman of the Fairfax County Board of Supervisors, in a statement in June. "Fairfax County's purchase of the former Lorton Prison has provided the opportunity to create a vibrant community in the South County area. Providing attractive tax-producing residential and retail uses is a real victory and the right decision for our board."