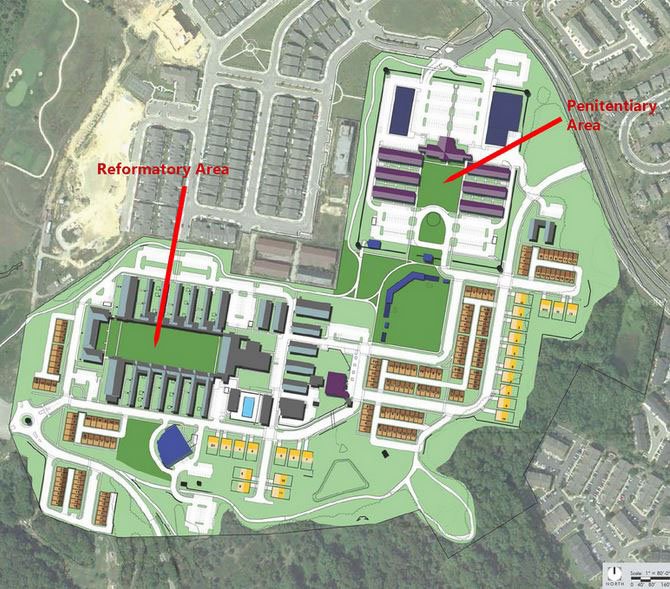 The site of the former Lorton prison will soon get a makeover, complete with townhouses, restaurants, apartments and single-family homes.
Inside the renovated cell blocks and guard towers will be housing and businesses on 80 acres in Lorton, home to the D.C. prison that closed in 2001.
The county will transfer the land to the Alexander Company and Elm Street for development of the project. A 30-day public comment period is now underway. The Workhouse Arts Center, also at the site of the former prison, will remain open.
Lorton is also the site of an EnviroSolutions construction debris landfill, which many residents hope will close by 2019. That issue, which the Board of Supervisors will decide on later this month, came up at the June 3 hearing.
Gregory Riegle, an attorney for the project, said he is aware that recycling is important to the community.
"We have every incentive to want to recycle as many materials as possible," Riegle said. "It only makes practical sense."
Larry Clark of the Spring Hill Community Association, which is in favor of the plan, brought up some concerns regarding the recycling of construction debris.
"We need to embrace recycling. This project is tailor-made for it," Clark said.
Tim Sargeant, chairman of the Laurel Hill Project Advisory Committee, said he appreciates the Alexander Company and Elm Streets' efforts to blend modern and historic design.
"Today is truly another milestone in the continuing history of a site with historic significance," Sargeant said.
The redevelopment will bring 412 new housing units and retail space totaling 110,000 square feet.
Fairfax County is paying for $12.7 million of the $188 million project. The project is expected to create 300 new jobs and generate $2.5 million per year in tax revenue, a county press release stated.
The first phase is expected to begin this October, and the second phase will begin by October 2016.
Most of the land is being leased by the county to the developers rent free for 99 years.
"I was pleased to support the re-planning and re-purposing of Laurel Hill," said Sharon Bulova, chairman of the Fairfax County Board of Supervisors. "Fairfax County's purchase of the former Lorton Prison has provided the opportunity to create a vibrant community in the South County area. Providing attractive tax-producing residential and retail uses is a real victory and the right decision for our board."