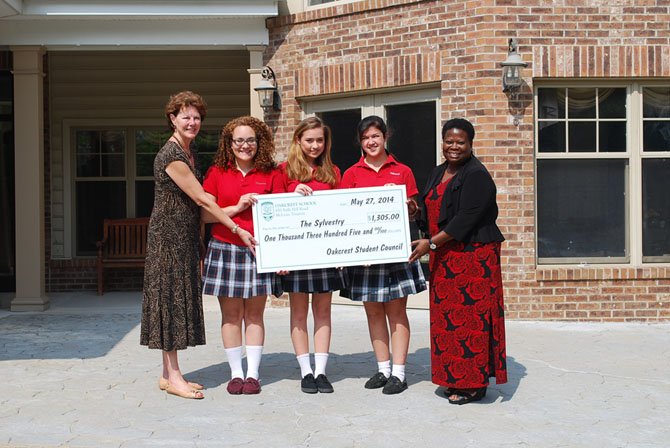 Donating the fruits of their yearlong labor, the senior council of the Oakcrest School, an all-female preparatory school in McLean, presented Kathleen Martin, CEO of Vinson Hall Retirement Community, a check for just over $1,300 on Tuesday, May 27.
The money, which was raised completely through student-organized fundraisers, will go to the Sylvestery, an assisted living facility for those with Alzheimer's, dementia and memory loss that is part of the Vinson Hall Retirement Community and supported by the Navy Marine Coast Guard Residence Foundation.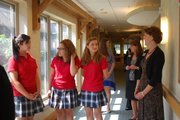 "Every year the senior council selects a theme," said Gianna Ridout, president of the senior council. This year, the council decided on "Better Together." With the theme in mind, the students of Oakcrest School raised money all year, then donated it to a charity of their choosing.
"It is incredible that a group of young women had the fortitude to look at what they could do to make their community better."

—Kathleen Martin, CEO of Vinson Hall
"We wanted to do something within the community to give back to the area we've been in for so long, especially since our community is within a period of transition from McLean to Vienna," said Cathryn Grace Sreco, treasurer of the senior council. Oakcrest School plans to move from McLean to Vienna in 2015, said Marty Lerner, director of marketing and communications.
So the senior council chose the Sylvestery, said Alex Aguilar, secretary of the senior council. They knew of the organization because girls from Oakcrest School have sung to residents as service projects in the past, she said.
"We were looking for an organization within the community — one that could really benefit," Sreco said. "One thousand dollars is no little sum, but when you're dealing with a really large organization, it doesn't make as much of an impact," she said.
AS FOR THE FUNDRAISING, "it was a huge initiative within the student body," Sreco said. Throughout the year, every class works on different fundraising projects, and each class has a different month in which to hold their fundraisers, she said.
The only exception to this is the middle school, Aguilar said, and grades six through eight work together as a team. "This year they held a sweatshirt fundraiser, where students paid 25 or 50 cents to be able to wear a sweatshirt with their uniforms," said Aguilar. They raised the most money, even though their month was filled with snow days, she said.
"IT IS INCREDIBLE that a group of young women had the fortitude to look at what they could do to make their community better," said Kathleen Martin, CEO of Vinson Hall. "They wanted to have an impact on our residents, and they definitely will."