A Broadway-style, musical adventure is on tap in Encore Theatrical Arts Project's new show, "The World at Your Feet."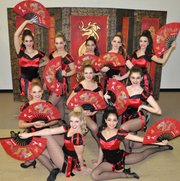 It'll be presented Saturday, June 14, at 8 p.m., and Sunday, June 15, at 3 and 6 p.m., at NOVA's Ernst Community Cultural Center, 8333 Little River Turnpike in Annandale. Tickets are $22, adults; $18, students and senior citizens, at www.encore-tap.org.
The cast of 56 singers and dancers comes from at least a dozen different schools, and Director/Choreographer Raynor van der Merwe says they've been "a joy to work with. The actors are terrific, the story's coming together great and the dancers are doing wonderfully. It's a family-friendly show for audiences of all ages."
The story's about a New York girl who doesn't want to try new things, unlike her adventurous friends. But that all changes when she meets a woman with a bag full of magic hats that can take her anywhere.
"It's a really engaging and fun show," said van der Merwe. "You know what to expect, but that's part of the enjoyment. And the audience will enjoy the variety of music and different genres of dance in each country the girl visits."
Eighth-grader Margot Vanyan plays the lead role, Katie. "She's shy and uptight and doesn't like to try new things," said Vanyan. "But she gradually becomes more open and gets excited about them. And each time she goes to a different country, she's interested in learning more about it."
Vanyan likes her part because "I get to sing and my character is funny. And I've learned about the countries, too, while playing Katie. My favorite song is 'Together Again for the First Time.' I sing and dance in it with a few other people, and it's a really hilarious number."
IN HER THIRD YEAR with Encore, Vanyan's danced since age 4. "We're going to put on an amazing show," she said. "The dancing's great and the singing's absolutely phenomenal."
Clifton's Emily Dillard, a freshman at Fairfax High, plays Lily, Katie's best friend. "She likes to try new things and she appears in different countries as different people," said Dillard. "So I also play an African village leader, a French artist and a tour guide in China. Lily's very dramatic and has an outgoing personality, and it's fun playing a variety of parts within the same show."
With Encore six years, Dillard finds dancing relaxing. "Once you know what you're doing, it's very calming," she explained. "Whenever I can't focus at school, I tap under my desk and it helps me." She's also learned that, "When you get corrected, instead of feeling down on yourself, you should come back with more energy and sharpness. And sometimes rehearsing is almost more fun than the performance because you get to experiment and try new things."
In the upcoming show, Dillard says the audience will "definitely enjoy the dancing, especially the can-can number. That's some of the most impressive dancing I've ever seen, especially for high-school students."
Westfield High senior Caroline Bond, with Encore three years, has danced since age 7. "It helps me get out my energy and I really like performing," she said. "At Encore, I've learned time management – even outside the studio. I'm here over 14 hours a week, minimum, so I've had to manage dancing with school and my volunteer work."
IN THIS SHOW, she's in several numbers, but "Chop Suey" is her favorite. "It's a tap routine to a catchy song, and we wear Chinese-takeout boxes," she said. Overall, said Bond, "There's a cool storyline that will entertain the audience and probably make them want to try new things, too."
Renee Griese, a Chantilly High junior, has danced with Encore's performing company since sixth grade. "If I've had a bad day, I can forget about it and escape for awhile through dancing; it's very relaxing," she said. "In this show, I play a French waitress, but I'm mainly a dancer and singer."
She particularly likes the opening number, "Another Cha Cha," because "It's really energetic, upbeat, Latin music with 45 people onstage. Since the show's about a girl who travels around the world, we do many different styles of dance, including traditional African dancing and a Chinese fan dance."
Griese's favorite costume is the one for the can-can number – huge, purple skirts "with lots of different colors of ruffles underneath that you see when we flip them up." At Encore, she said, "I've learned that dancing isn't just about doing the steps. To entertain an audience and convey a story, you have to be able to perform. I hope lots of people come see us – it'll be a really good show."